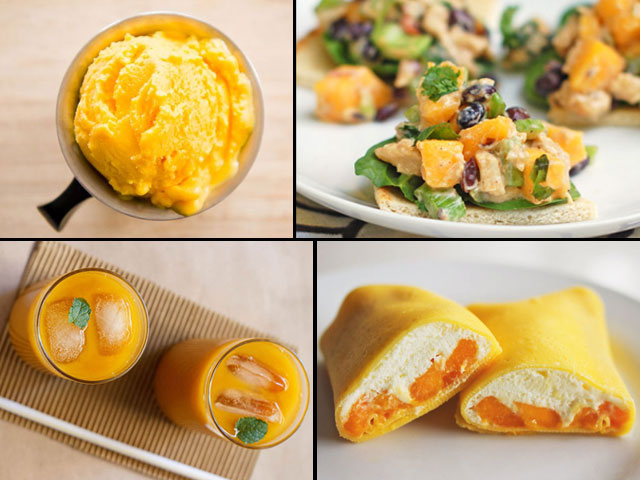 ---
Alert: Mangoes are officially in season! To make the most of it, here are 10 ways you can consume Pakistan's favourite fruit.

1. Mango lassi frozen yogurt

There's no better way to beat the heat than with this refreshing scoop of mango lassi frozen yogurt. All you need is some mango pulp, yogurt and rose water to cool you down under the unrelenting summer sun. Find the recipe here. 




2. Mango bread

If you're a total mango fanatic, why not add some fruit to your carbs?  Try making this super moist bread, with a myriad of unique flavors that will surprise you in every bite – cinnamon, honey, lemon zest, and of course, sweet mangoes.




6 Karachi desserts you must try now

3. Mango-mint limeade

Dump the store-bought mango squash this summer, and treat your guests to this home-made concoction made with mangoes, mint, sparkling water, and lime.




4. Mango chicken salad

If you're looking to add this sweet treat to a savory meal, this mango chicken salad is as good as it gets. Made with all the fresh, bright flavors of the tropics, this dish is a must-try.




5. Mango iced tea

Addicted to tea but can't have it during this heat wave? Try this refreshing drink made with black tea, and mango pulp.




5 coolers to beat the heat

6. Mango pancakes

Whipped cream isn't only for strawberries. These drool-worthy pancakes filled with whipped cream and mangoes are simple to make, and will give you a scrumptious start to your day.




7. Mango milkshake

Mango milkshakes are the best way to get your daily dose of calcium, and serve as the perfect morning treat for those who are used to having their breakfast on the go.




8. Thai mango coconut sticky rice

Turns out Thai mango sticky rice isn't as out of reach as we thought. You don't have to hunt down a good Thai restaurant to feed your cravings, when you can make this culinary masterpiece at home.




Pakistan aiming to fetch over $75 million with mango exports

9. Mango sorbet with lemon thyme

This mango sorbet with lemon thyme is the perfect summer pick-me-up, bursting with flavours from mangoes, lemon zest and thyme.




10. Aaam khaye ga

Or you could just go for the tried and tested Aamir Liaquat route.


Have something to add to this story? Share it in the comments.