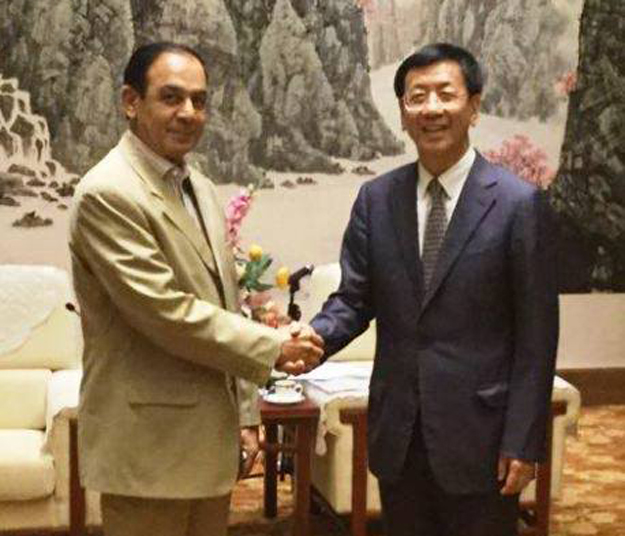 ---
ISLAMABAD: The anti-corruption work would also be given importance to curb corruption in under process development projects between Pakistan and China, National Accountability Bureau (NAB) Chairman Qamar Zaman Chaudhry said on Thursday.

He was talking to Prof Cao Jianming, President of International Association of Anti-Corruption Authorities (IAACA) and Prosecutor General of China, who called on him at Tianjin, China, says a message received here. Both personalities discussed matters of mutual interest.

The NAB chief said Pakistan and China were time-tested and all-weather friends as close identity of views and mutual interests remained hallmark of bilateral ties. Chairman NAB, who is visiting China to attend ninth Annual Conference and General Meeting of International Association of Anti-Corruption Authorities (IAACA), briefed regarding operational methodology of NAB, encompassing the enforcement, prosecution, awareness and prevention activities.

He said NAB had prosecuted corrupts, recovered Rs275.4 billion since its inception and deposited in national exchequer which was a record achievement. It is in this context that PILDAT in its report has rated NAB's performance at 42% based on public survey. This compares quite favourably to 29 % public confidence in Police and 26% in government officers' working.

The rate of success of NAB's prosecution work in all courts is approximately 75%. The recent reports of Transparency International also rated Pakistan in Corruption Perception Index (CPI) from 126 to 117 which is a great achievement for Pakistan.

Prof Cao Jianming spoke about strategic partnership between the two countries and need for future cooperation in field of Anti-Corruption work.

In this respect, Memorandum of Understanding (MoU) for collaboration in anti-corruption work also came under discussion.

He appreciated the anti-corruption work being done in Pakistan by NAB under leadership of Qamar Zaman Chaudhry.

Published in The Express Tribune, May 13th, 2016.