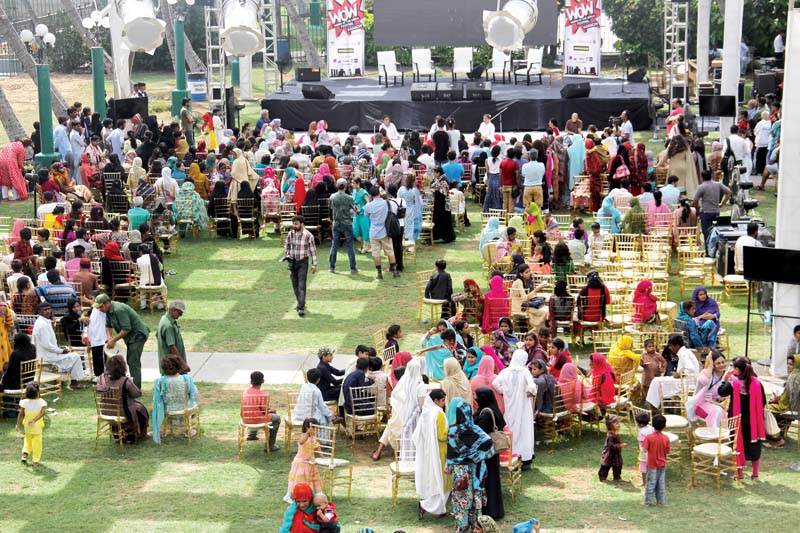 ---
KARACHI:



Hameeda Sikandar Ali started an organisation for women development in Gadap, Orangi, New Karachi and Korangi. Then, one day, two men on a motorcycle came to her house and handed her a letter to stop the work she was doing within three days or else they would kill her children.




She was sharing her story with an audience that sat stunned in silence at the session 'Conflict in the city: Karachi as a woman', at the WOW festival on Sunday.

WOW Karachi: This weekend, celebrate being a woman

"You can tolerate everything in the world personally," she said. "But when the threats concern your kids, that's when it hits you hard the most." She took her children to Swat and, according to her, her children live in fear to this day. "As for me, I would talk openly about anything but ever since this episode, I've become careful," she added.




Another heartrending tale was shared by Lahore resident, Dr Fatima Haider, who runs a voluntary service that allows people to share stories of tragedy. She recalled how, three years ago, she lost her husband and son as they were shot dead early morning when her husband was dropping their son to school. She was left with a 15-year old son and a six-month-old daughter, who were fortunately at home with her.

Sisters in the struggle: Orchestrating change through global unity

In response to a question on how she, in her research, has seen women coping in conflicts, researcher Nazish Brohi said a feature about Karachi's conflict is that there is a lot of internal migration within the city. She said when women change neighbourhoods, they start covering their faces and a sense of alienation prevails. "Karachi was created by migrants but there is also a lot of fear for new migrants," she said. Brohi said the responses of women depend on the type of conflict, too. She talked about the time of military dictator Ziaul Haq, when the army would open tear gas and the women would step out of their houses, bearing buckets of salty water and towels to counter the effect of the gas. However, Brohi pointed out, women tend to bow down in conflicts that have a religious edge as they are reprimanded for stepping out in the first place.

Kishwer Zehra, an MNA of the Muttahida Qaumi Movement, said religious terrorism has destructed the country greatly. Men taken into custody for questioning return in terrible, amputated state to their families, she said.

Published in The Express Tribune, May 2nd, 2016.