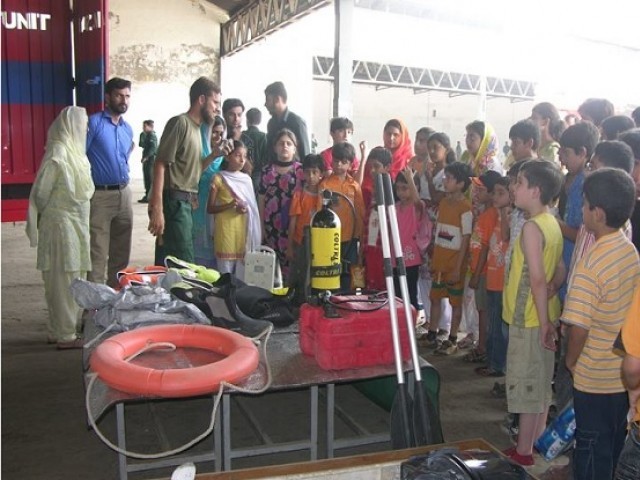 ---
LAHORE: Most people would find themselves at a loss to do anything consequential when caught in an emergency like a terrorist attack or a blaze at a building.

They would at best remain confined to waiting for help in the form of rescue officials or personnel from law enforcement agencies. Rescue-1122 is acutely aware of the lack of public awareness regarding how to function in emergencies. "Due to the situation prevalent across the nation, it's imperative that people learn basic emergency rescue techniques," Rescue-1122 Chief Training Officer Farooq Ahmed told The Express Tribune. He said one could make a great difference in emergencies and calamities if they had basic rescue knowledge.

The Rescue-1122 official said the nation was currently at risk of experiencing disasters and calamities like acts of terrorism, shootings, blazes, earthquakes and floods.

Four basic courses

Ahmed said there were only four basic courses that could equip people with the skills needed for effective emergency response. He said these included cardiopulmonary resuscitation, soft tissue injury management, spinal injury management and emergency evacuation. He said it was binding on everyone to know how to control bleeding, manage spinal injuries to prevent further damage, evacuate buildings and give CPR. Ahmed said it took rescue personnel at least five to seven minutes to respond to an emergency. Anyone with the knowledge of basic life support techniques can save many lives in the timeframe, he said.

Vexing figures

According to Rescue-1122 data, 268 accidents and mishaps were reported on April 27, 2016 in the city alone. These included 129 road accidents, 91 medical emergencies, 18 fires and 74 miscellaneous incidents. "The figures alone show the importance of learning basic life support techniques," the chief training officer said.

Workshop organised

A workshop on basic life support techniques was recently organised by the Shaikh Khalifa Bin Zayed Al-Nahyan Medical & Dental College International Federation of Medical Student Association (IFMSA) and Rescue-1122. "150 students, both men and women, from various medical universities participated in the workshop and learned how to save lives during emergencies and calamities," IFMSA's Musa Raza Naqvi said. He said the initiative had been taken to equip students with basic life support skills. "It is imperative to have knowledge of rescue techniques in context of the situation prevalent nationwide," Naqvi said.

Published in The Express Tribune, April 30th, 2016.
COMMENTS
Comments are moderated and generally will be posted if they are on-topic and not abusive.
For more information, please see our Comments FAQ