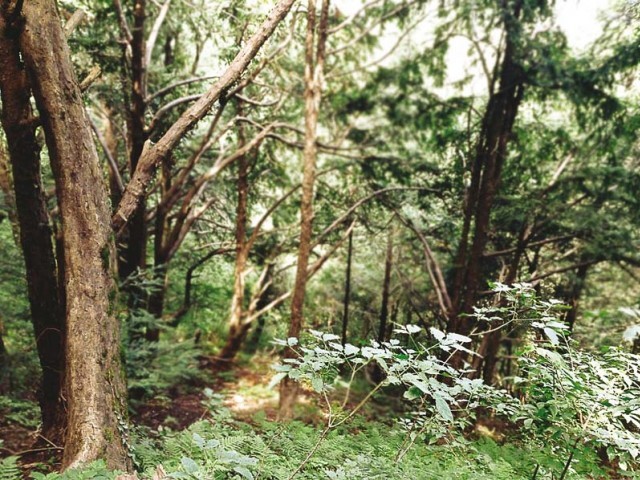 ---
ISLAMABAD: National Assembly members hit out at the Climate Change Ministry's forest wing and provincial forest departments for failing to control deforestation.

At a meeting of the National Assembly Standing Committee on Climate Change held at the Parliament House on Friday under the chair of MNA Hafeez-ur-Rehman Khan Drishak, the parliamentarians said that illegal forest cutting was not possible without the involvement of forest officials.

They rejected the claims of forest officials that local forest mafias were involved in forest cutting with the support of local politicians, terming it 'unconvincing.

The meeting also discussed the latest situation of floods in upper parts of the country and steps taken by the government for rehabilitation of the affected. The committee also examined issues related to climate change and steps taken by federal as well as provincial governments to stop deforestation.

The parliamentarians said that forest officials were painting a rosy picture of forest cover but the situation on ground was contrary to their claim and deforestation was causing landslides, land erosion, silting of river bodies, urban flooding, heat waves as well as shift in rain patterns.   Pakhtunthwa Milli Awami Party MNA Abdul Qahar Khan Wadan said that   cutting of trees was not possible without involvement of local forest departments.




Pakistan Muslim League-Nawaz legislator Muhammad Moeen Watoo said that since the first meeting of NA standing committee on climate change, the climate ministry has been trying to cover up but the ground situation was grim and dismal.

"It reflects the fact that forest officials of the ministry and provincial forest departments are doing nothing to control deforestation and increasing forest cover in the country," Watoo said.

The parliamentarians emphasised that the political leadership needed to play its role by engaging local forest communities to boost awareness about importance of forest in environmental conservation and forest protection as well as tacking climate change impacts effectively.

Jamiat Ulema-e-Islam-Fazal MNA Naeema Kishwar Khan emphasised that to tackle climate change impacts, the country would have to increase forest cover. She also suggested involvement of women for increasing forest cover and stressed to provide alternate fuel resources for local communities.

Climate Change Ministry Secretary Syed Abu Akif Ahmed suggested that the government should reduce import duty on liquefied petroleum gas and on technology used in renewable energy to provide easy alternate sources of fuel to the communities.  The parliamentarians supported his idea.

He said that to tackle climate change issues and increase tree cover, the ministry needed support from provincial governments as  the ministry was pushing hard to bring all provincial forest,  environment and other relevant departments together to address  the menace of climate change.

He said that the ministry was not capable enough  to deal with climate change issues alone and it required cooperation from provincial departments to deal with climate change issues and to increase forest cover. He said that lack of coordination among federating units was a serious bottleneck to address the problem.

Earlier, in a written reply, the climate ministry officials told the committee that from March 9 to April, a total 264 people lost their lives due to heavy rains across the country while 3,017 houses were damaged.

According to break-up, the highest 149 deaths were recorded in K-P followed by FATA with 38 deaths, AJK 25, G-B and Balochistan 19 each, and Punjab 14 deaths.

The parliamentarian, however, appreciated the Climate Change Ministry for devising a National Climate Change Policy and a roadmap for implementation of the policy.

Published in The Express Tribune, April 30th, 2016.