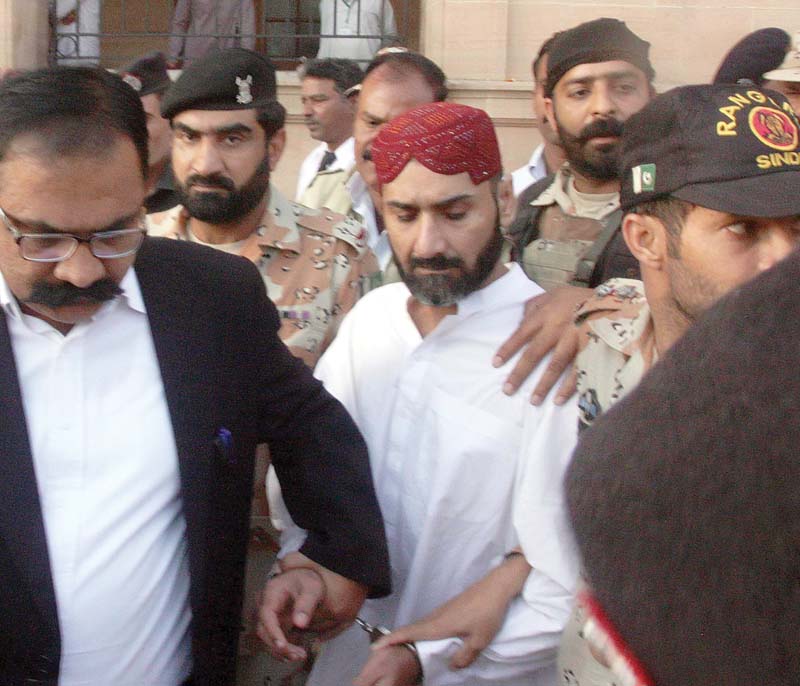 ---
KARACHI: Lyari gang war kingpin Uzair Jan Baloch has allegedly confessed his involvement in at least 198 murders, according to a Rangers official.

Investigators say that the notorious gang leader has made several startling disclosures before the joint interrogation team. "Uzair Baloch has so far confessed to the murder of 198 people, directly or indirectly," claimed a Rangers official who wished to remain anonymous. "Baloch has also admitted his involvement in politico-ethnic targeted killings, anti-state activities, extortion, kidnapping for ransom, drug peddling and possessing arms and explosives."

Uzair Baloch sent on 14-day remand to police custody

Baloch has also admitted that he and his gang members were involved in the firing incident at a Sher Shah Scrap market in 2010 that claimed the lives of at least a dozen traders and wounded several others. He has also confessed to the killing of rival group leader Haji Aslam and his five sons in Dalmia. The official disclosed that Baloch also helped Saeed Jan Baloch become chairperson of the Fisheries Cooperative Society, for which he extorted Rs10 million per month. He has also confessed to the abduction-cum-killings of another rival gang leader Arshad Pappu, his brother Yasir Arafat and their close aide.




A Rangers official privy to the JIT findings told The Express Tribune that most of the murders Baloch confessed to were of rival gang members or Muttahida Qaumi Movement workers. It was also learnt that Baloch was also questioned about his involvement in the murders of slain Pakistan Peoples Party chairperson Benazir Bhutto, Khalid Shehenshah and slain Bilawal House security incharge Bilal Shaikh. However, the Rangers official neither confirmed nor denied his involvement and said that the JIT report is closed to completion and nothing could be said until it concludes its findings. Over 70 cases against Baloch and his gang are pending before the courts.

Sent on remand

Meanwhile, an anti-terrorism courts' administrative judge remanded Baloch into police custody on Wednesday for 14 days in an illicit weapons and explosives case and sought a progress report at the next hearing.

Lack of proof: Home minister defends PPP's link with Uzair Baloch

This is a new case against the defunct Peoples Aman Committee chief, registered on the compliant of an inspector at the Rangers' Abdullah Shah Ghazi wing, a day before his preventive 90-day long detention in the paramilitary force custody expired.

It revolves around the discovery of arms, ammunition and explosives - one light machine gun, 500 bullets, a Russian-made RPG-7 launcher, some rockets and hand grenades. It is said that the cache has been used in a number of terrorist activities and was buried in the ground near a dumping yard in Garden.

Baloch has, however, already been booked in more than 40 cases of murder, extortion, kidnapping and attacking law enforcers lodged at different police stations and has been declared a proclaimed offender in all of these cases.

Dangerous criminal: MQM MPA accuses CM of ties with Uzair Baloch

The Nabi Baksh police, who currently have custody of the gang leader, had sought a month-long remand of the suspect for interrogation. The administrative judge allowed, however, only two weeks.

Published in The Express Tribune, April 28th,  2016.