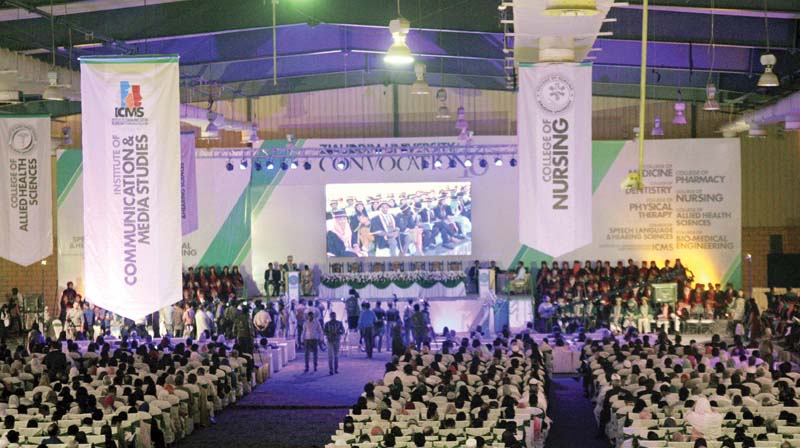 ---
KARACHI: Wednesday's convocation of Ziauddin University was the first in its 13 graduation ceremonies that was not marked by the presence of its chancellor Dr Asim Hussain.

Nevertheless, Dr Asim, who is presently in the custody of law enforcement agencies on terrorism and corruption charges, managed to mark his presence among graduating students through a speech delivered by her daughter, Dr Nida Hussain. The university awarded a total of 307 degrees together with eight gold medals to the graduating students at the ceremony held at Karachi Expo Centre.

LEA detain Ziauddin Hospital's Managing Director




Quoting Dr Asim, his daughter said he apologises to students for not being physically present with them. "I am unable to attend for a reason I cannot myself comprehend," she said, quoting her father. Dr Asim appreciated the growth and strength of Ziauddin University that, according to him, is proven by the fact that a void has not been felt despite his absence. "It makes me proud to see the transition process complete and the institutional capacity developed," said Dr Nida, quoting her father.

Dr Asim congratulated students for their hard work and determination, along with their parents. He said it is because of the parents' sacrifices that these students are now ready to serve the country.

Senate chairperson Raza Rabbani, who was the chief guest, congratulated all the students and parents. He advised the students about the morality of the profession, and asked them to always remain committed with their profession and keep on improving their skills.

Graduation ceremony: 625 students graduate from MUET




The university awarded the Sir Ziauddin Ahmed Academic Excellence gold medals to eight top position holders. The recipients included Suleman (dental surgery), Ayesha Akhtar (bio-medical), Rida Moin (medical technology), Hafsa Munir (speech language therapy), Noureen Shoukat (generic), Zulekha Saleem (physical therapy), Mahnoor Imran (MBBS) and Meena Mairaj (Pharm.D).

The varsity's vice-chancellor (VC), Dr Pirzada Qasim Raza Siddiqui, told students to consider themselves lucky as there are over 20 million youngsters who are out of school in the country. "You are privileged that you had a chance to be educated in good schools, colleges and then Ziauddin University," he said. "Always keep in mind that you have taken an oath to abide by professional ethics and always be ready to act for the well-being of humanity."

Students donning black robes bordered with red, pink and yellow lines were excited to be getting awarded for their hard work. Many were spotted taking selfies with their friends and families. Madiha and her father explained that it is a moment to celebrate. Madiha claimed it would not be possible to be here without the support of her parents.

Graduation ceremony: KU set to host convocation on Sat

Gold medalist Noureen Shoukat told The Express Tribune that all her hard work paid off and she is finally at her graduation. Another graduating student, Pooja Sawahi from Hyderabad, said it was a long journey with a lot of memories that has come to an end today.

Lt Gen (retd) Dr Syed Azhar Ahmed, former VC of Baqai University, said graduation is just the beginning. "It will not end until you feel fully confident of meeting the uncertainties and challenges of life and learn to counter them on your own," he said. He stressed that the nations counted as developed countries today reached that place because of investing in educating heavily, "that is how we can also compete in this world."

Published in The Express Tribune, April 28th,  2016.