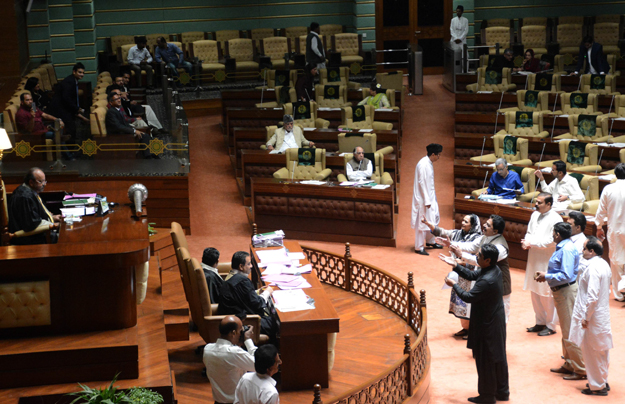 ---
A Sindh Assembly session was adjourned on Wednesday amid chants by opposition parties protesting against proposed amendments in the Local Government Bill 2016.

Sindh Assembly Speaker Agha Siraj Durrani adjourned the session briefly without taking up the agenda of the quarterly report of budget expenditure owing to a "lack of quorum."

Local government system: Bill passed to increase female reserved seats to 33

The assembly was scheduled to discuss the budget expenditure for the third quarter which was deferred on Tuesday upon the request of some lawmakers, including Muttahida Qaumi Movement legislators.

On Tuesday, the Sindh Assembly amended the local government (LG) law to increase the reserved seats for women in local bodies from 22 to 33.

Senior minister for parliamentary affairs, Nisar Ahmed Khuhro also moved another bill to make an amendment in the LG law, but it was deferred till Wednesday. Through this second amendment, the government wants to appoint officers to monitor LG functions. "We want to strengthen the LG law, which is why we want to make this amendment in its section 18-A," said Khuhro, adding that the Sindh government will also pass the law to implement the apex court's orders to hold the LG election through secret ballot.

No proceedings: Sindh Assembly session adjourned owing to 'lack of quorum'

Taking part in the ongoing discussion on the budget of the third quarter on Tuesday, , opposition lawmakers criticised the government for failing to spend development funds allocated for different schemes in the province. "The fate of around 263 new development schemes hangs in the balance as not a single penny has been released by the government for the same," claimed MQM MPA Heer Ismail Sohu in her speech.
COMMENTS
Comments are moderated and generally will be posted if they are on-topic and not abusive.
For more information, please see our Comments FAQ