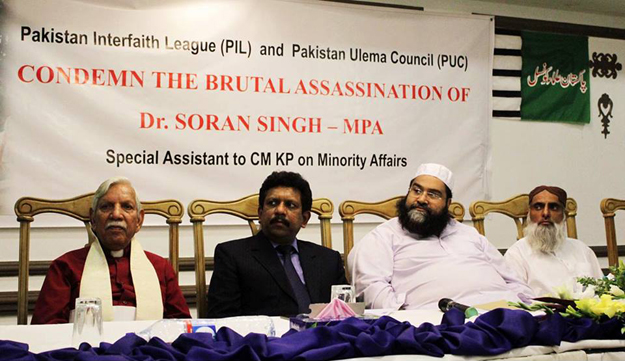 ---
Pakistan Ulema Council (PUC) Chairperson Hafiz Tahir Ashrafi paid rich tributes to the slain Pakistan Tehreek-e-Insaf (PTI) leader Dr Soran Singh at a joint meeting of different religious groups here on Monday, said a press release.

The cleric, indirectly accusing the PTI leadership of discrimination on the basis of religion, questioned, "if any Muslim leader among [the] leadership of [the] Pakistan Tehreek-e-Insaf was brazenly killed,… [had the] PTI leadership … [went ahead with the] jubilations relating [to] their [party's] foundation day."

It is regrettable that the PTI leadership did not attend the funeral ceremony of Dr Singh and failed to be loyal to a party worker and leader after his killing, Ashrafi said.

He highlighted Singh's efforts to the cause of interfaith harmony and for elimination of terrorism.

Ashrafi said that conspiracies were being hatched against Pakistan worldwide.

He said the Government of Afghanistan needed to act maturely and responsibly. Ashrafi said they should handover all those elements who were operating terrorists groups from Afghan soil against Pakistan.

He also demanded of Government of Iran to handover all those elements responsible for supporting RAW's spy network on Iranian soil.

Pakistan Interfaith Organization President Sajid Ishaq said that Singh was a brave son of the soil.

Bishop Mazhar Ishaq said that it was positive to see people from different schools of thought and religions united against the killing of Soran Singh.

Islamabad PUC leader Abdul Hameed Sabri said that the services of Soran Singh would be remembered forever.

Civil society representative Samina Imtiaz said that Soran Singh sacrificed his family for Pakistan.

Published in The Express Tribune, April 26th, 2016.
COMMENTS
Comments are moderated and generally will be posted if they are on-topic and not abusive.
For more information, please see our Comments FAQ