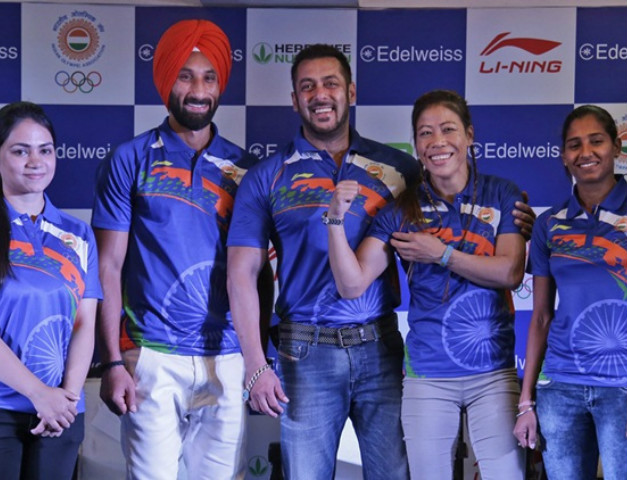 ---
The Indian Olympic Association (IOA) announced its decision to appoint Bollywood star Salman Khan as the goodwill ambassador of the national contingent for the Rio Olympics on Saturday.

The Bajrangi Bhaijan actor was himself present at IOA headquarters in New Delhi with several Indian sportspersons, including five-time World Champion boxer MC Mary Kom and Indian men's hockey team captain Sardar Singh when he was named the goodwill ambassador.

April 23, 2016
April 23, 2016


However, not everyone seems to be happy with the decision as Twitter instantly exploded with reactions.

The move was questioned by several members of the Indian sports fraternity with 2012 London Olympics bronze medalist Yogeshwar Dutt making his displeasure public with a series of tweets barely an hour after the decision was announced.

coach saab! Log ko filmy & asli jeevan ka fark samjhna chahiye. Ambassador ke liye asli life ki chavi chahiye. https://t.co/jJR1lPHUhU

— Yogeshwar Dutt (@DuttYogi) April 24, 2016


Without naming Salman, Yogeshwar also accused the actor of using the Olympic platform to promote his upcoming film Sultan. A sports-drama, the film depicts the struggle of a wrestler as he makes the journey from small town Haryana to success at the international level.

Kahi bhi ja Kar apni movie ka promotion kare,Es desh me adhikar hai Lekin Olympic movie promotion ki jagah Nahi https://t.co/ed6vCqNMXT

— Yogeshwar Dutt (@DuttYogi) April 23, 2016
PT Usha,Milkha Singh jaise bade sports star hai jinhone kathin samay me desh ke liye mehnat ki. Khel ke kshetra me Es ambassador ne Kya kiya

— Yogeshwar Dutt (@DuttYogi) April 23, 2016


SRK will lose his 'megastar' status to Salman Khan: Ram Gopal Varma

Several other reactions followed
https://twitter.com/hankypanty/status/724106357188632576

#yogeshwardutt forget #SalmanKhan. You are a real HERO Salman is a Filmy Hero. Real Heros, not Filmy Heros will bring Medals for the NATION

— ANIL VIJ MINISTER HARYANA (@anilvijminister) April 25, 2016

https://twitter.com/SRKismyWorld/status/724505397256683520
https://twitter.com/ggiittiikkaa/status/723918599581216768
https://twitter.com/SoutrikDebnath/status/723774184443125760

Former athlete Milkha Singh has also lashed out at the IOA's decision. "I want to make it clear that I am not against Salman Khan, but the decision of the IOA is wrong and the Government should intervene in the matter. This is for the first time I am seeing a Bollywood hero being made goodwill ambassador for Olympics. I want to ask has Bollywood ever made any sportsperson an ambassador for any of their mega event?

"I want that the decision to name Salman Khan as ambassador should be revised," he was quoted as saying, reports Times of India.

'Sultan' teaser shows Salman Khan in top form

IOA rushed to justify its decision. "We are very happy and thankful on Salman's offer to support Olympic Sports in this country. This association is only a gesture and does not include any monetary consideration," IOA secretary general Rajeev Mehta said in a statement on Sunday.




According to Mehta, roping in Salman as the ambassador of the Indian contingent is intended to attract more public attention towards Olympic sports in the country by drawing on the Bollywood star's mass appeal and popularity among the youth.

"He is the biggest Bollywood star in the country in terms of mass following and our key objective of bringing him on board is to draw maximum attention from the masses, due to which there will be more eyeballs and viewership which will eventually result in popularizing Olympic sports in the country," the IOA official asserted.

SRK likely to make cameo appearance in Salman Khan's 'Sultan'

"We may appoint more icons from other walks of life like music, cricket, art culture and Olympic sports etc. Mr. Salman Khan is only being appointed from Bollywood segment and we are in talks with two other big names in music and cricket. We are more than willing to have as many icons including the likes of Ms. Anju Bobby George and Ms. PT Usha who have the capacity and capability to popularise Olympic sports in the country," he added.




Filmmaker Subhash Ghai also came to the superstar's rescue and said that instead of picking at the appointment one should appreciate the move which can inspire the youth of the country.



Veteran actor Hema Malini also extended her support.


Ppl love him (Salman Khan) so much.If he is brand ambassador(for #RioOlympics2016) what is the problem?: Hema Malini pic.twitter.com/fxxwlKfNdP

— ANI (@ANI) April 25, 2016


And there are many others who agree with the decision

Dear @BeingSalmanKhan , am sure you will use your tremendous goodwill to help Indian Olympic Sport and Olympic athletes (cont..)

— Abhinav A. Bindra OLY (@Abhinav_Bindra) April 24, 2016
If film industry can make films on #MilkhaSingh, #MaryKom & pay tributes 2 them, why can't @BeingSalmanKhan b India's face for #RioOlympics?

— Ashoke Pandit (@ashokepandit) April 25, 2016

https://twitter.com/BeingKareemKhan/status/723874705950691328

@BeingSalmanKhan wil B India's Goodwill Ambassador at 2016 #RioOlympics now a Hero shud b Like him who brings proud to country #Kudos Bhai

— Bollywood Business (@BHT_OFFICIAL) April 23, 2016
HEARTFELT Congratulations Bro #SalmanKhan for Becoming India's Goodwill Ambassador for the Upcoming #RioOlympics 👍 pic.twitter.com/SBWO4r3Urm

— SᴀʟᴍᴀɴKʜᴀɴLɪᴄɪᴏᴜs 🐅Sɪᴋᴀɴᴅᴇʀ Rᴀᴄɪɴɢ Iɴᴛᴏ Uʀ Hᴇᴀʀᴛ… (@SalluLicious) April 23, 2016
COMMENTS
Comments are moderated and generally will be posted if they are on-topic and not abusive.
For more information, please see our Comments FAQ