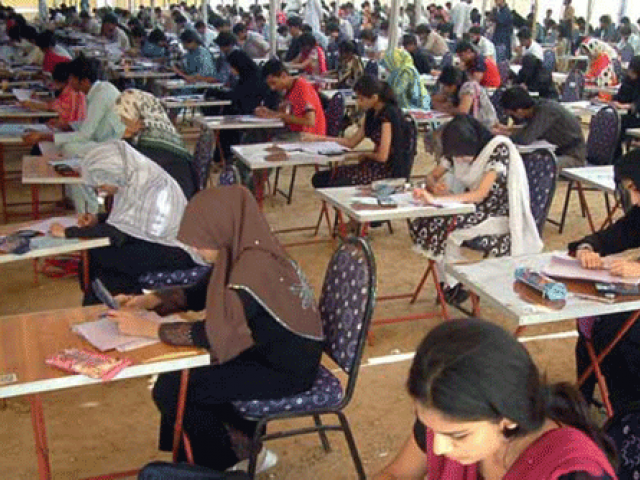 ---
HYDERABAD: The Sindh Public Service Commission (SPSC) is likely to dispose of as unimportant around five dozen complaints of malpractice or omission filed by candidates who took the Combined Competitive Examinations (CCE), 2013.

The development comes as an utter dismay for complainants who expected remedy against the alleged nepotism, corrupt practices and mistakes in question papers and paper checking.

The announcement of the written exam results on March 16 stirred protests from large number of candidates who failed the exams. Prompted by protests, the SPSC on March 21 designated its secretary, Shafi Muhammad Shah, as the focal person to receive candidates' complaints. The interviews of qualified candidates scheduled for April 18 were also postponed to April 25 allowing time for him to complete the process.

"The SPSC would welcome any substantive information from any quarters or individuals which should lead to disclosure of any graft or malpractice. In this regard, the commission is setting a period of one month to receive such complaints up to April 21, 2016," reads the notification.

However, SPSC officials informed The Express Tribune that none of the complaints contained evidence of any wrongdoing. "We have decided to treat these complaints as routine ones," said an official, requesting anonymity.

Background

On August 2, 2013, SPSC advertised 182 posts of BPS-17 and BPS-16 officers to be filled through the competitive exams, which comprises screening test, written test and interviews. These included 76 BPS-17 section officers, 45 BPS-17 assistant commissioners, 12 BPS-17 excise and taxation officers and three BPS-17 labour department assistant directors, besides 46 BPS-16 posts.  The screening tests, initially scheduled for November, 2013, were conducted on December 28, 2014. The results announced on January 8, 2015, declared pass 3,376 out of around 28,000 candidates. The written exams, comprising eight subjects, were held in April, 2015. As many as 664 candidates passed the exams.

Complaints

The candidates found faults in paper checking and questions of Sindhi Essay, Islamic History period I, Forestry and Commerce subjects. "Dozens of candidates who scored 70% to 90% marks in History of Sindhi Literature were failed in Sindhi Essay [a compulsory subject]," said Asif Jamal and Raza Mohammad Shar, two of some 20 candidates who have gone to the Sindh High Court, which heard the case in Karachi on Friday.

They argued that SPSC and examiners deliberately failed candidates. "Lower number of candidates qualifying on merit will give room for maneuver to the SPSC to adjust those candidates who can only get these jobs on the basis of bribe or nepotism," says the petition.

They gave references of several candidates who scored as high as 133 out of 150 in literature but failed in Sindhi Essay with some getting zero marks.

They said three questions of Islamic History period II were put in the question paper of period I. "During the exams, the wrong questions were changed. But we have strong reason to believe that the paper checker assessed the answer sheets from the question paper which contained the changed questions."

Similar issues were also identified in the question papers of the optional Forestry and Commerce subjects. Zubair Ali Metlo, another petitioner, is a forest official and a graduate in forestry. But even he was failed in the forestry exam.

Saeed Memon, another petitioner, said several relatives of incumbent staff of the SPSC have qualified the written exam, accusing employees of assisting family members to qualify for the test. According to him, 44 'favourites' were issued two roll numbers in violation of the rules. Some 11 of them did not take the screening test, he alleged.

The candidates have demanded an inquiry against the alleged manipulation and want the rechecking of answer papers. As per the rules, a candidate can only request the commission to recount their score.

Published in The Express Tribune, April 25th,  2016.

 
COMMENTS
Comments are moderated and generally will be posted if they are on-topic and not abusive.
For more information, please see our Comments FAQ