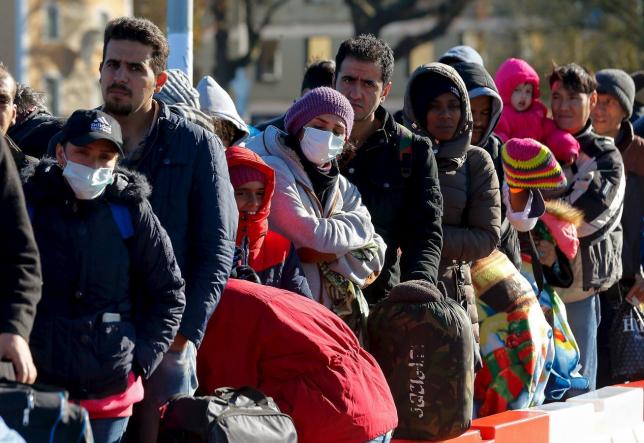 ---
BERLIN: "No more appointments today" reads a sign at a bank in Berlin where refugees are queuing to open an account -- a key step towards integrating into German society, even if not all banks are playing along.

But Mohammed is one of the lucky ones and has an appointment for the afternoon.

Tensions over migrant deal as Merkel, EU officials head to Turkey

The 29-year-old Iranian arrived early in the morning to secure a place in the queue at the Berliner Sparkasse, a savings bank that offers accounts for refugees.

And after an interview that normally takes 30 minutes, he hopes he will re-emerge waving an account number and a trademark red information pack explaining in three different languages and pictograms how to withdraw from an ATM or transfer money in the EU.

Mohammed is confident that, with a bank account, he will no longer need to spend hours waiting at the refugee registration centre, since the welfare payments he is entitled to can be transferred directly to his account.

With more than one million asylum seekers arriving in Germany last year, demand is huge for such bank accounts.

To help cope with the vast influx of refugees, the Berliner Sparkasse assigned two of its branches to handling their requests.

"Setting up the two customer centres for refugees was the logical consequence and helped solve a number of problems," said Olaf Schulz, head of the bank's private customer division.

"We were able to bundle our language expertise in English and Arabic there. Our staff were able to familiarise themselves with all of the different documentation. We drew up the criteria for the accounts and compiled info packs in English and Arabic. We then notified the refugee homes," Schulz said.

Visa deal or no migrant deal, Turkey warns EU

Berliner Sparkasse now has accounts for around 16,000 refugees.

Having a bank account also makes things easier for the refugees who are "happy and grateful," Schulz said.

"It's important for people, who are housed in large sports halls, to be able to keep their money safe in an account," said Anas Albasha, a 24-year-old Syrian hired by the bank as a translator.

He answers the questions of the asylum seekers and acts as a go-between with the branch's five employees.

Albasha himself only arrived in Germany in September 2014. And, looking smart in a suit and tie, he says he "wants to help" the new arrivals find their way into the world of German banks.

He recalls the hurdles he himself faced when trying to open an account.

"I first tried in English, but that didn't work. And then in my broken German. And that didn't work either," he says in German that is now much more fluent.

A bank account is essential in Germany in order for someone to be able to find work and accommodation.

Convinced that "rapid integration is not possible" without access to a bank account, the German financial sector watchdog, BaFin, last year eased the rules on the documentation needed to open an account.

Since a lot of people arriving in Germany had no identity documents with them, BaFin decided that a letter signed by an immigration office containing an address, some identity elements and a photo would suffice.

EU 'sold out to Turkey' over refugee deal: Hungarian PM

"Of course, the easing by the BaFin simplified a lot of things," said a spokesman for GLS Bank, which also offers accounts to refugees.

"Access to a bank account is immensely important to being able to build your life."

For the BdB federation, whose members include Germany's biggest lenders such as Deutsche Bank and Commerzbank, the matter is more complex.

"It's complicated for any bank. But for those that are internationally active, say, in the United States, it's even more so," said BdB chief Michael Kemmer.

"In Germany, the legal regulations regarding identification are very strict. At the same time, there must be no suspicion of terrorism financing or money laundering," he told AFP.

The savings banks complain that the bigger private banks are hiding behind such arguments and leaving them to pick up the new clientele who have very little money on their accounts.

A new law allowing everyone to hold a bank account that is expected to come into effect in the coming months "should help alleviate the situation a great deal," said Schulz at the Berliner Sparkasse.

Originally designed mainly for homeless people and approved by lawmakers in February, the law, following a European directive, obliges a bank to open an account for everyone regardless of their income.
COMMENTS
Comments are moderated and generally will be posted if they are on-topic and not abusive.
For more information, please see our Comments FAQ