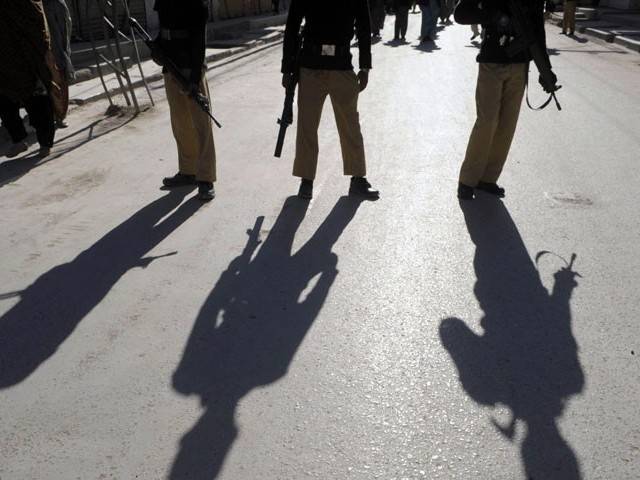 ---
SUKKUR: Sukkur police registered an FIR against three police officials, including a former SHO of Jhangro police station, on Friday evening on charges of killing a teenage boy in an allegedly fake encounter.

According to the police, the boy was arrested on April 14 for allegedly stealing cigarettes from a kiosk in Ali Wahan town and the accused policemen killed him in a fake encounter near a thermal power station a day later. The SHO was also suspended from his post after the registration of the case.

SHC orders FIR against SSP Rao Anwar over 'fake encounter'

Police officials said that Jhangro SHO Abdul Hakeem Langah, along with Crime Investigation Agency (CIA) ASI Usman Panhwar, head constable Nazir Kalhoro and police constable Abdul Latif, raided the house of Muhammad Hamid Qureshi and told him that they have come to arrest his son, Abid Qureshi, for allegedly stealing cigarettes from a kiosk. After some resistance, the 17-year-old boy was handed over to the police after the intervention of the recently elected vice-chairman of the union council (UC), Jameel Ahmed, and the prayer leader of Ali Wahan Jamia Mosque and a member of the Ruet-e-Hilal Committee, Maulana Zafar Saeedi.

After keeping the boy in the lock-up overnight, the accused policemen took him near a thermal power station on Friday and shot him in the right leg to paint the picture of an encounter. They also claimed to have recovered a pistol and some bullets from the boy's possession. The injured was admitted in the jail ward of Civil Hospital, Sukkur, where he succumbed to his injuries on April 16. The boy's death angered his family and other residents, who gathered at National Highway and blocked the road for hours, shouting slogans against the police.

Missing person: Man says son killed in 'fake encounter', SHC dismisses petition

Sukkur DIG Azhar Rasheed ordered inspector Ghulam Ali Jumani to look into the matter, who, after thorough inquiry, submitted a report to the DIG, which was then forwarded to the Sindh IG. On Thursday, additional IG Sanaullah Abbasi visited Sukkur and ordered to register an FIR against the said police officials and others responsible. Following his orders, an FIR No 27/2016 was registered at the Jhangro police station against suspended SHO Langah, CIA ASI Panhwar, head constable Kalhoro and police constable Latif. UC vice-chairman Ahmed and prayer leader Saeedi were also nominated in the FIR. Arrests have yet to be made.

Sukkur SSP Amjad Shaikh, who has been posted just 12 days ago, confirmed the registration of the FIR when contacted and told The Express Tribune that none of the accused have been arrested because all of them have secured bail before arrest from the court. This was the first case that came before the newly posted SSP.

Published in The Express Tribune, April 24th, 2016.
COMMENTS
Comments are moderated and generally will be posted if they are on-topic and not abusive.
For more information, please see our Comments FAQ