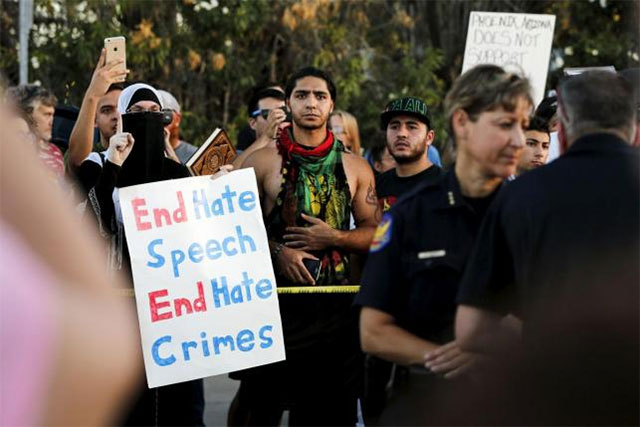 ---
A New Jersey school board member resigned on Friday after drawing fire for anti-Muslim Facebook posts, including one saying, "America needs to get rid of people like you," the board president said.

Elmwood Park Board of Education member Gladys Gryskiewicz had come under pressure to step down after attention was drawn to the posts on her personal Facebook account.

Anti-Muslim threats on rise across United States

Board President Jeanne Freitag confirmed the resignation, which was reported by New Jersey's Record newspaper on Friday.

"There will be a resolution at Tuesday's meeting," she said in an email. The resolution calls for the board to accept Gryskiewicz's resignation effective immediately, according to the meeting's online agenda.

Gryskiewicz this year had urged Muslims to "stay in your desserts [sic] and follow your religion in your own countries," the New Jersey chapter of the Council on American-Islamic Relations, or CAIR, said in a statement.

She also wrote, "Go back to your own country; America needs to get rid of people like you," CAIR said.

The Record said Gryskiewicz had cited concerns about her family's safety in quitting the board in Elmwood Park, a township about 10 miles west of New York.

Gryskiewicz was elected in November and sworn into office in January. The Facebook page has been taken down.

Miss Puerto Rico 2015 suspended for anti-Muslim comments on Twitter

Schools Superintendent Anthony Grieco had called the statements "hurtful and offensive" and said they had disrupted the school day.

CAIR said a high school student called attention to the posts at a board meeting last month.

Humza Yousuf, 17, said Gryskiewicz's comments offended him. Yousuf is Muslim and his parents are Pakistani immigrants. He is student body president at Elmwood Park Memorial High School.

Principal David Warner demanded Gryskiewicz's resignation. The call was echoed by students, CAIR, several school board members, teachers union officials and state legislators.