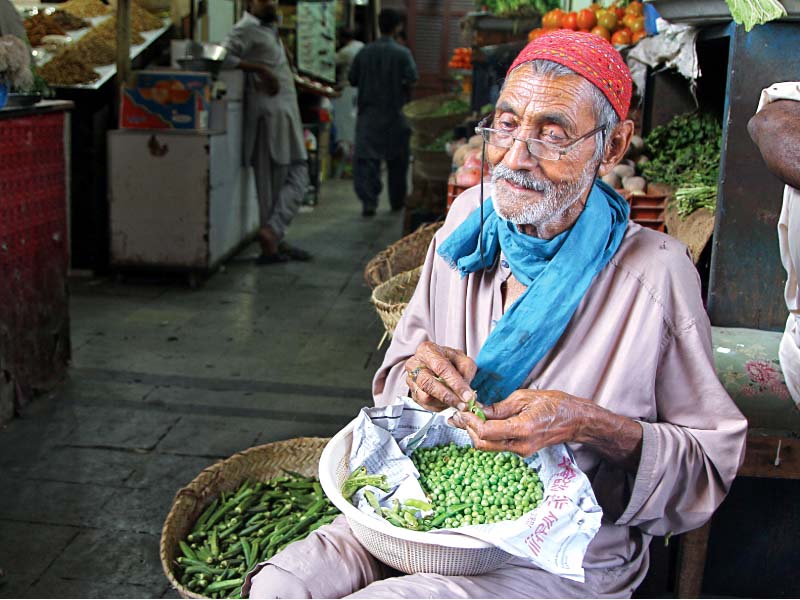 ---
KARACHI:



Sitting cross-legged on the main gate of Empress Market, a blind man has been shelling peas for the last 35 years.




Eighty-year-old Muhammad Hassan, also known as Taya (uncle), has been working day and night to return the loan he took for the wedding of his children (three sons and four daughters). He does not think that he is disabled and wants to continue working till his last breath. "It is better to work than beg," he keeps on repeating.

In 5 minutes, he lets the blind see

"My elder son drops me here in morning and I go to home with my neighbour, who also works at the Empress Market. This has been my routine for years now," he said.

The people refer to him as 'Chota Bhai' because of his jovial persona. He is famous in the entire Empress Market for shelling the peas of vendors selling vegetables.

Harsh realities

Taya spends the entire day shelling peas and selling match boxes and earns Rs300 per day for his endeavour.

A kilogramme of raw peas is sold for Rs60, but after shelling, the retailers sell it for Rs80 and pay Taya only Rs5 for his hard work. "I shell around 10 to 15 kilogrammes of peas daily," he said. However, he earns Rs100 to Rs200 while selling matchboxes.

The silver lining: The disabled man who realised his crushed dream

When asked if people in Empress Market or other people have ever helped him, he became emotional. "I can still earn. If not, I will prefer to sit at my home. However, the irony is that I become sick whenever I don't work."

Speaking about his disability, he said that he was not always blind. "I can still view things partially. I lost my eye sight suddenly and despite three operations the vision could not be restored."

Origins

His family belonged to Moradabad, India but migrated to Sindh during Partition. "At first, we were settled in Hyderabad but moved to Karachi during General Ziaul Haq's tenure in 1980."

Taya's father was an employee of railways department. He wanted me to complete my education but Taya failed middle school while studying at Noor Muhammad School in Hyderabad. He is the only surviving member among his seven siblings.

Student who lost both hands rejects disability label

Dare to dream

According to him, before he dies he wants to fulfill his two dreams. First is to return the loan and other is to be able to perform Umrah.

Reminiscing the old days, he remarked that Empress Market was not always this crowded and many foreigners used to visit it. "Now, the situation has changed completely. We hardly see any foreigners and owing to the piles of garbage and overflowing gutters, we cannot event sit here," he said.

Published in The Express Tribune, April 23rd, 2016.