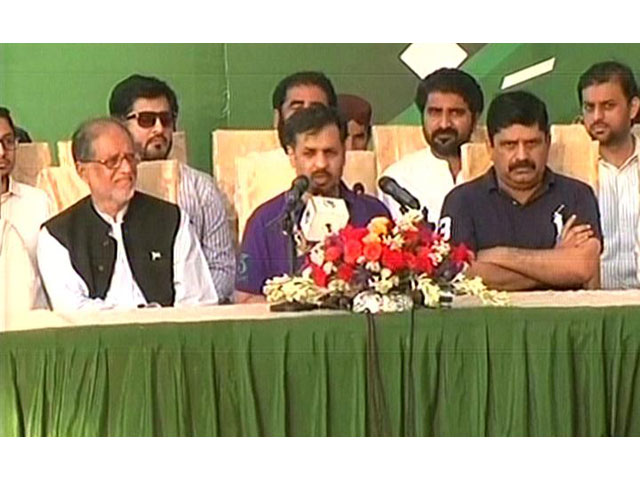 ---
Following the footsteps of estranged Muttahida Qaumi Movement (MQM) leaders, Pakistan Tehreek-e-Insaf leader Syed Hafeezuddin joined on Friday Mustafa Kamal's political bandwagon.

This is the first time a sitting lawmaker of a political party, other than the MQM, has joined the PSP.

Announcing his resignation from the basic membership of PTI, as well as the Sindh Assembly, Hafeezuddin said Imran Khan was surrounded by short-sighted and incompetent people, causing the votes of the party to fall.

"We tried to register our protest on this situation but to no avail," he said, while addressing the media. "We will prepare a policy on the country's issues in general and Karachi's in particular and will reach out to every nook and corner of this country."

Hafeezuddin was elected member of the provincial assembly from Karachi's PS-93 constituency on PTI's ticket in 2013 general elections.

Kamal pulls another MQM dissident into Pak Sarzameen Party

"Mafias have their hold in Karachi, in government departments, depriving the commoners of the basic facilities of life," he said.

"I am confident that Mustafa Kamal is an expert in developing these fields, including education and providing basic necessities of life."

The joining came as the PSP prepares for a show of power in MQM stronghold Jinnah Ground on Sunday. It is being seen as a major breakthrough for the fledgling party of the former Karachi mayor, which pulled three ministers of the Sindh Assembly within a week.

Welcoming the arrival, Kamal said he did not launch a party to create rifts or divide people.

"We are even asking our opponents to stay firm in their belief and seek unity and tranquility even with their enemies."

Another MQM MPA joins Mustafa Kamal's party

The PSP was formed by the former Karachi mayor upon returning to Pakistan from self-imposed exile on March 3.

Immediately after his return to the country, Kamal had launched a blistering attack on MQM chief Altaf Hussain and challenged the 'iron grip' of the MQM on the city.

Several MQM leaders including, Anis Kaimkhani, Raza Haroon, Anis Ahmed Advocate, Waseem Aftab, Bilquis Mukhtar, Dr Sagheer Ahmed, and a large number of activists have joined PSP since Kamal's return.
COMMENTS (4)
Comments are moderated and generally will be posted if they are on-topic and not abusive.
For more information, please see our Comments FAQ