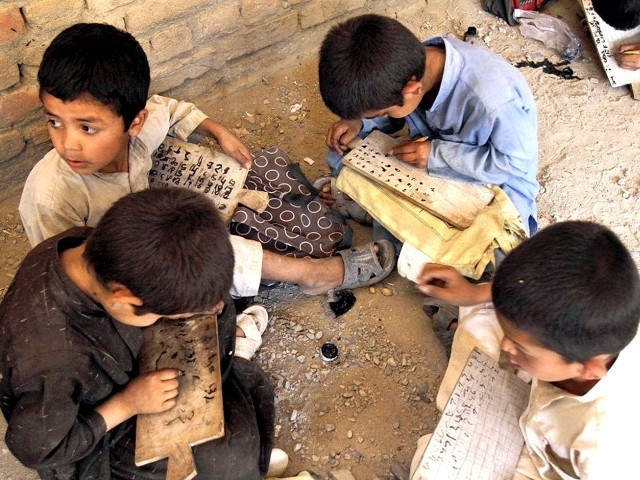 ---
LAHORE: Members of the Caucus on Education Legislation and Financing (ELF) in the Provincial Assembly on Tuesday presented their proposals for the education budget for the upcoming fiscal year to the Finance and Schools Education ministers.

The proposal document, a copy of which is available with The Express Tribune, asks the government to ensure that at least 25 per cent of the provincial budget was used for the education sector. It suggests that Rs321 billion be set aside for the sector in 2016-17 – a 12 per cent increase over allocation in 2015-16. It also asks the government to progressively increase budgetary allocations every year to ensure that the requirements laid out in Article 25-A of Constitution [compulsory, universal schooling for 5-16 year olds].

The ELF proposes that at least 20 per cent of the education budget be set aside for development expenditure. Within the development budget, it says at least 20 per cent should be allocated for primary education sector. Funds set aside for the primary education projects should be distributed among the various regions in proportion of school enrolment statistics and in view of the need for basic facilities.

The document suggests that at least 50 per cent of the development budget be set aside for the secondary education sector. It says these funds should be used to construct more schools and to enhance the capacity of existing schools.

The ELF further suggests a Rs1 billion allocation for training of school council members.

For teachers' training, the ELF proposes a 15 per cent increase in budgetary allocations for in-service and pre-service training. It says that Rs3.7 billion be allocated for in-service and Rs1.5 billion for pre-service training.

The document says that Rs250 million should be allocated for development of district education plans across the province and Rs500 million for disaster preparedness activities at schools. It seeks a Rs15 billion allocation for maintenance, repair and reconstruction of school buildings and Rs1 billion for monitoring and evaluation.

The document says that the government should include a section in the budget document providing details of all on-going foreign-assisted schemes in the province.

It says gender parity should be taken into consideration when making budgetary allocations for the sector.

Lawmakers from all political parties represented in the Provincial Assembly had come together in December last year to form the caucus with the aim of making education a priority of the government.

Published in The Express Tribune, April 20th,  2016.
COMMENTS
Comments are moderated and generally will be posted if they are on-topic and not abusive.
For more information, please see our Comments FAQ