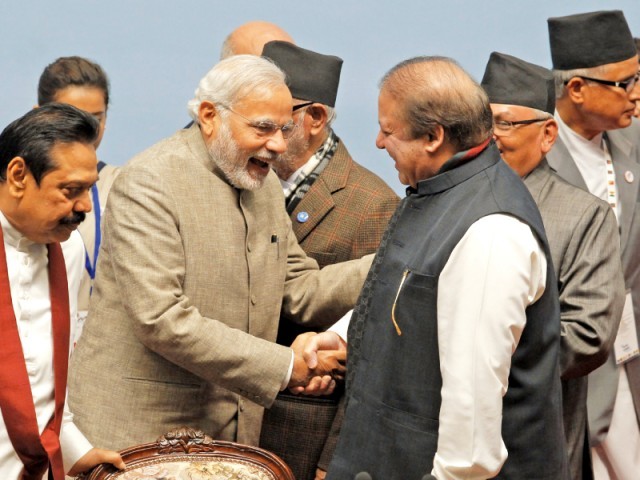 ---
ISLAMABAD:



The Organisation of Islamic Cooperation (OIC) on Wednesday stressed the need for a dialogue between arch rivals Pakistan and India to resolve all their outstanding issues including the Kashmir dispute.




This demand was made during a meeting of the OIC Contact Group on Jammu and Kashmir held on the sidelines of 13th OIC summit in Istanbul. According to the Foreign Office, the Prime Minister's Adviser on Foreign Affairs Sartaj Aziz led the Pakistan delegation at the meeting, which was chaired by OIC Secretary General's Special Representative on Jammu and Kashmir Ambassador Abdullah Al-Alim.

US urges Pakistan, India to resume dialogue




Foreign ministers of Azerbaijan and Turkey and senior representatives of Saudi Arabia and Niger attended the meeting, said the Foreign Office statement. Turkish foreign minister specially attended the contact group meeting despite his engagement with the Council of Foreign Ministers as the chair.

The contact group reiterated OIC's continued support to the people of Indian Occupied Kashmir (IOK) in their "just struggle for realisation of their right to self-determination in accordance with UN Security Council resolutions".

Opening the meeting, Al-Alim reiterated the principled position of the OIC of continued support to the Kashmiri people in their legitimate struggle for the right to self-determination.

"The contact group has been constantly conveying the OIC's concerns to the international community regarding the flagrant human rights violations and abuse of the basic rights of the Kashmiris," he said.

Case for Pakistan-India talks

The special representative regretted some attempts to equate the Kashmiri struggle with terrorism, and emphasised that the Kashmiris were solely striving to achieve their inalienable right in accordance with relevant UN resolutions.

Al-Alim welcomed establishment of the standing mechanism of OIC Independent Permanent Human Rights Commission (IPHRC) to monitor human rights situation in IOK. The IPHRC will present its report to the next session of OIC Council of Foreign Ministers.

On its part, the standing mechanism will maintain close contact with the Kashmir civil society and the NGOs working in the field to fulfill its mandated task.

In his key-note address, Sartaj Aziz reiterated Pakistan's continued diplomatic, moral and political support to the people of the Indian held Kashmir in their 'just struggle' for realisation of their right to self-determination in accordance with UN Security Council resolutions.

He highlighted the human rights violations in the IOK and appreciated the steadfast support of the OIC and the contact group member states to the people of Kashmir.

Participating on behalf of the True Representatives of Kashmiri People, Ghulam Muhammad Safi highlighted the ground situation arising from the continued Indian occupation and oppression in the IOK and urged for the resolution of the Kashmir dispute in accordance with UN resolutions.

Modi willing to resolve all issues with Pakistan

He thanked the continued support by the 'brotherly OIC countries' and the member states of the contact group for their support to the oppressed people of the IOK.

On behalf of Kashmiri people, he also presented a Memorandum to the special representative. Indian government had imposed travel restrictions on a number of Kashmiri leaders from the IOK, preventing their participation in the meeting.

Published in The Express Tribune, April 14th,  2016.