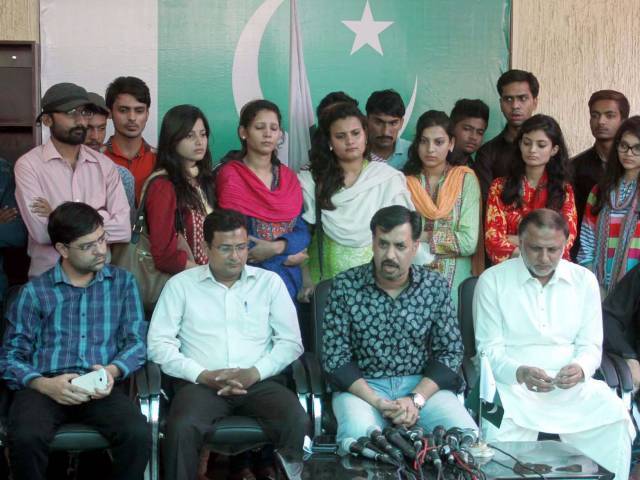 ---
KARACHI: Lashing out at Waheeduz Zaman, who joined Mustafa Kamal's party on Monday, the All Pakistan Mohajir Student Organisation (APMSO) accused its former chairperson of allegedly raping a young girl, possessing a fake degree and being involved in corruption.

Zaman joined Pak Sarzameen Party (PSP) on Monday and claimed that youngsters in his former party were being used as tissue paper, were kept away from education and were made to collect fitra and Zakat. He also said that a lot of young men, who were his friends and peers, had lost their lives and were being killed aimlessly.

On Wednesday, the APMSO, Muttahida Qaumi Movement's student wing, held a press conference at Karachi Press Club and rejected all allegations made by Zaman. "There are several corruption cases against Zaman," said APMSO chairperson Sarfaraz Ahmed Siddiqui. He said that Zaman was sidelined a few years ago when complaints of corruption emerged against him.

"How can a rapist talk of leading the Mohajir community? Those who are involved in china-cutting are being presented as heroes while innocent educated youngsters like us are being implicated in false cases," Siddiqui added.

He said that Zaman was supported by the 'king of china-cutting' Waseem Aftab, and also enjoyed the support of Mustafa Kamal and Anis Kaimkhani. Siddiqui claimed that even though Zaman possessed a fake degree, he was given a job in grade 18 by these leaders. Siddiqui said that unlike Zaman, they will not change their loyalties for money, and will continue to support their party chief, Altaf Hussain.

Published in The Express Tribune, April 14th, 2016.
COMMENTS
Comments are moderated and generally will be posted if they are on-topic and not abusive.
For more information, please see our Comments FAQ