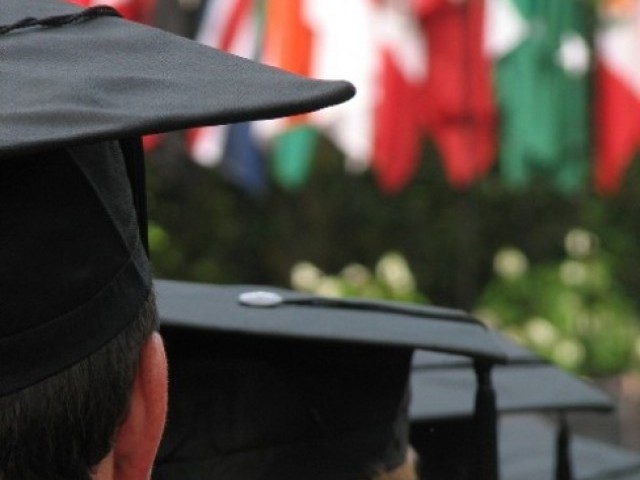 ---
KARACHI:



The Sindh government finally accepted Muttahida Qaumi Movement (MQM)'s longstanding demand to set up a university in Hyderabad city.




In this connection, a resolution was unanimously adopted in the Sindh Assembly on Tuesday to convert the 100-year old Kali Mori College into a university. The party has been demanding for five years to set up the university in Hyderabad - the second largest city of Sindh - but the provincial government has always turned down their request justifying that a few universities already exist in neighbouring Jamshoro and there was no need for a new varsity in Hyderabad.

On Tuesday, MQM lawmaker Sabir Hussain Kaimkhani, who belongs to Hyderabad, moved a resolution on the issue. In his brief speech, Qaimkhani said there was only one medical college in Hyderabad city, which had also been moved to Jamshoro.

Hazara University: New campus for Darband on the cards

"Kali Mori College was established in 1917 and we are celebrating 100 years of this college next year. We demand the government to convert this college into a university as it owns a vast area where a university with hostels can be established," he said.

Senior minister for education Nisar Ahmed Khuhro said he had no objection to the resolution, but added that MQM's allegation that the provincial government has ignored Hyderabad was not justified.

"We are promoting higher education and will not oppose this resolution," he said, taking a U-turn from the government's previous stance when MQM had moved a similar resolution last year.

Pakistan Peoples Party's (PPP) Dr Sikandar Mandhro, however, suggested that the MQM lawmakers move a proper bill on the issue. After brief speeches by MQM lawmakers, Speaker Agha Siraj Durrani presented the resolution to the House, which was adopted unanimously.

Bio-metric system for students

Earlier, Khuhro, also the minister for parliamentary affairs, informed the House that the education department has introduced a bio-metric monitoring system to ensure attendance of teachers in the province and now the government is going to replicate it to ensure enrollment of students.

Responding to questions by some MPAs, Khuhro said around 357 government schools have been handed over to NGOs and individuals for to improve their performance.

Hamdard University convocation: Higher education govt's top priority: Saira

Wheat growers' woes

The assembly also discussed the distribution of gunny bags among wheat growers in Sindh. Opposition members belonging to the Pakistan Muslim League-Functional (PML-F) and PML-Nawaz criticised the provincial government for not providing the sacks to growers in many districts of Sindh.

"We have heard that the government has fixed the gunny bags quota for PPP lawmakers from the provincial and national assemblies. Can the government ensure timely provision of bags to growers of wheat in the province," PML-F MPA Nusrat Seher Abbasi said while moving her resolution.  Other opposition MPAs also endorsed Abbasi's condemnation and referred to the ongoing protest by growers in the province.

"The growers can only sell their wheat on the prescribed rate if the government provides them the bags, otherwise they would have no other option but to sell it at throwaway prices," added Abbasi.

Food minister Nasir Hussain Shah assured the House that there will be no complaints anymore and gunny bags would be provided to growers without any discrimination.

HEC announces university rankings

'Breach of privilege'

Earlier, MQM lawmaker Zafar Kamali, who hails from Mirpurkhas district, moved a privilege motion against a police raid at his office on March 31 when Mustafa Kamal's caravan came under attack by MQM workers.

Kamali said a number of policemen led by ASP Abdullah Larik harassed him in front of locals. "Despite knowing that I am an MPA, police entered my office without any warrant and misbehaved," he claimed, requesting the speaker to refer the matter to the relevant standing committee as the police had breached his privilege.

Khuhro termed it a personal rivalry between MQM and its dissident leader [Kamal]. "The police had conducted the raid after an FIR was registered against MQM workers who allegedly attacked Kamal," he said.

MQM lawmakers then protested against Khuhro remarks saying no party worker was involved in the attack. Speaker termed the matter a serious issue and referred it to the standing committee for an inquiry.

In praise of Agha Saleem

The assembly also paid rich tribute to renowned Sindhi writer and intellectual Agha Saleem who passed away in Karachi on Tuesday. The resolution was moved by PPP MPA Syed Sardar Shah. After the resolution, the speaker adjourned the session till Friday.

Published in The Express Tribune, April 13th, 2016.
COMMENTS (2)
Comments are moderated and generally will be posted if they are on-topic and not abusive.
For more information, please see our Comments FAQ