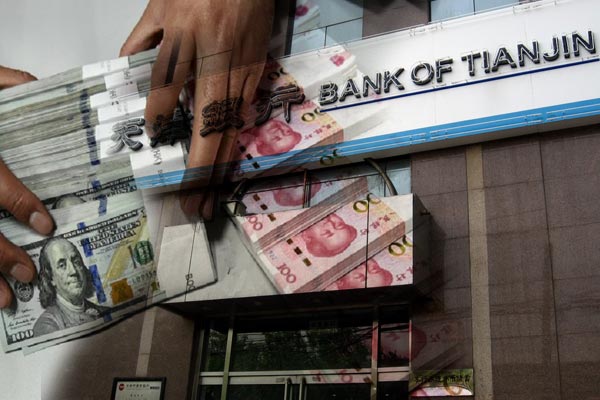 ---
SHANGHAI: China's Bank of Tianjin has been defrauded of more than $120 million, it said, the third such giant crime against banks in the country this year.

A "risk incident" at a Shanghai branch involved 768 million yuan ($122 million) and was related to its notes business, the bank said in a statement to the Hong Kong stock exchange.

Notes, also known as bills of exchange, are securities issued by financial institutions, often as short-term financing tools, and payable to the bearer.

Financial magazine Caixin said that the notes had been sold to the bank as part of a repurchase agreement.

Fraud Charges : Bank manager, cashier suspended

The bank "paid the money when buying the notes, but the notes went missing when the time came to resell", Caixin quoted people familiar with the matter as saying, leaving the bank unable to recoup its funds.

A number of bank employees who handled the bills had turned themselves in to police, it added.

The bank, which only listed in Hong Kong in late March, said in its statement on Friday that the incident happened "recently".

It is the third such case in China to come to light this year, and takes the total involved to 5.66 billion yuan.

Faisalabad Heist: Gunmen rob bank of Rs3.3 million

Agricultural Bank of China, one of China's biggest banks, admitted in January that two of its employees stole notes worth 3.9 billion yuan to invest in China's stock market, which imploded in mid-2015.

In January, mid-sized Chinese lender Citic Bank reported a bill-related risk incident in which it had been defrauded of up to 969 million yuan.

The China Banking Regulatory Commission issued a notice last week requiring banks to improve their risk controls on commercial bills and check their authenticity, Bloomberg News reported, quoting people familiar with the matter.
COMMENTS
Comments are moderated and generally will be posted if they are on-topic and not abusive.
For more information, please see our Comments FAQ