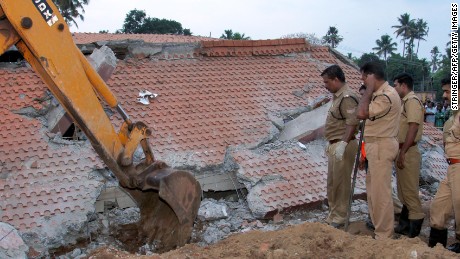 ---
KERALA: Five men wanted over a massive explosion during a banned fireworks display that killed more than 100 people in southern Indian surrendered to police early Tuesday, a senior officer said.

The blast ripped through concrete buildings at a Hindu temple complex in Kerala state where thousands had gathered on Saturday night to watch the display.

Police had been hunting for the five who went missing after the disaster and initial charges including of culpable homicide not amounting to murder have been filed against them.

India temple fire kills over 100 people watching fireworks

"The five accused who were named in the FIR (first information report) surrendered before the local police," head of Kerala's police crime branch S. Ananthakrishnan said.

"They have now been handed over to the crime branch. They are being questioned and will be formally arrested today," Ananthakrishnan told AFP.

Police have said the five were temple officials and contractors for the fireworks display. Another man facing the same initial charges was still in hospital.

Police on Monday also questioned five temple workers involved in staging the fireworks display, but they face no charges at this stage and have been released.

Fireworks gone awry: Temple blaze kills over 100 devotees in India

Thousands had packed the temple to celebrate the Hindu New Year festival of Vishu when a stray firework apparently landed on a stockpile of them, triggering the blast and fire that killed 109 people and injured hundreds more.

Witnesses told how the force of the explosion sent concrete slabs and roof tiles slamming into the panicked crowd of onlookers.

Police said they were investigating who was responsible for holding the fireworks display even though authorities in Kollam district had refused permission for it.

Fires and stampedes are not uncommon at temples and during religious occasions, often because of poor security arrangements and lax safety standards.

Desperate search for loved ones in India temple blast

Kerala's High Court is set Tuesday to hold a hearing to consider an immediate ban on hugely popular fireworks displays at all temples in the state, the NDTV news network reported.

A powerful state board, which governs nearly 1,000 temples, says it will not accept such a ban, adding that responsibility for devotees' safety lies with the government.

The Kerala government has ordered a judicial inquiry into the disaster, which comes as the southern state heads to the polls next month.
COMMENTS
Comments are moderated and generally will be posted if they are on-topic and not abusive.
For more information, please see our Comments FAQ