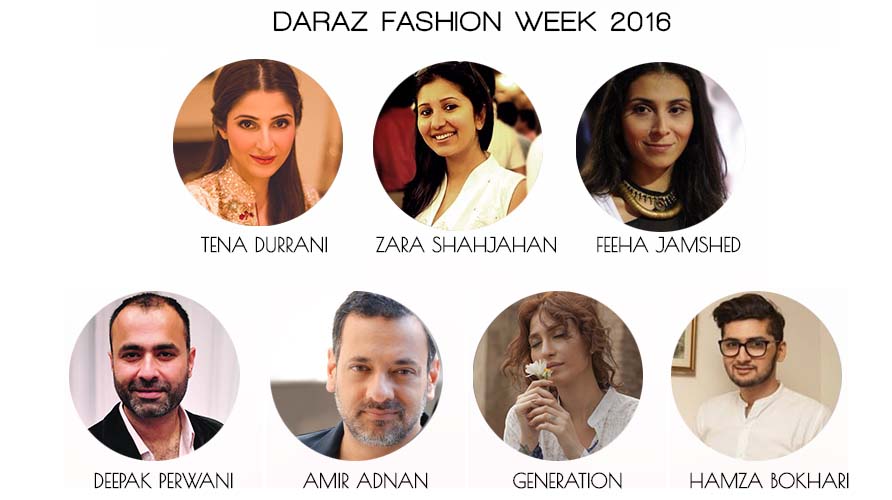 ---
Fashion weeks have always been a part of fashion history, accessible to magazine editors, socialites and the in-crowd. But is also an alien concept for the masses because everything seems so... inaccessible.

Now, imagine watching a fashion show, online, far away from the physical event. A model struts down the runway, you love the look and you want it. You click on the image of the model and add it to your cart, without pausing the stream and the next thing you know is, it's at your front door, just a few hours after appearing on the runway!

Sounds too futuristic? Kind of unbelievable, huh?

Well, Daraz.pk, along with Bank Alfalah, Pantene, Bata, Insignia and MasterCard, is making this beautiful dream a reality!




In recent times, Daraz.pk has worked hard to pave its way into the dynamic fashion industry, bridging the gap between high-fashion and everyday consumers. With the Bank Alfalah - Daraz Fashion Week – they are giving you the opportunity to be the first ones to grab what you like most! The Bank Alfalah - Daraz Fashion Week is Pakistan's first-ever shoppable fashion show, gathering top fashion designers who will launch exclusive collections on the leading ecommerce platform at incredible price points that are much lower than the normal prices!

The Daraz.pk webpage for the fashion week has been streamlined in a way that the shopping experience becomes effortless for the customer, making it a classic example of social entertainment and retail all being rolled into one glamorous event.

Big designers, namely Feeha Jamshed, Deepak Perwani, Tena Durrani, Zara Shahjahan, Amir Adnan, Jeem by Bank Alfalah, Rising Talent Hamza Bokhari and leading retail store Generation, have all decided to hop on to the digital era bandwagon and build a connection with the masses with the help of online retail events and other innovative initiatives hosted by Daraz.pk.

Speaking on the occasion, Jonathan Doerr, Co-CEO Daraz says,

"With the Bank Alfalah – Daraz Fashion Week, we are upping the ante for fashion shows in the country. We'll be the first ones in Pakistan to take collections from the best designers in the country to the masses at prices they'll love.

We will not only make the show an engaging cinematic experience but also a never-experienced-before retail treat where people can immediately buy what they see on the ramp, which is absolutely incredible."

The collections, which will be available to all of Pakistan starting 20 April to 24 April here, will prove to be a game-changer for the fashion industry. It will not only provide the fashion fraternity an online platform to grow but also endeavour to promote accessibility. With the Bank Alfalah - Daraz Fashion Week, a woman sitting in Multan will now have access to the same fashion trends as a woman sitting in Karachi.

[/fbvideo]

About Daraz

Daraz is the leading ecommerce platform in Pakistan, Bangladesh and Myanmar. The company started in Pakistan in 2012 as an online fashion business, but since then has expanded its business model to a general marketplace for quality brands within electronics, home appliances, fashion and many other categories. Daraz is owned by CDC Group – the UK Government's Development Finance Institution (DFI) focused on supporting and developing businesses in Africa and South Asia – as well as the Asia Pacific Internet Group (APACIG) which supports some of the leading internet companies in the region. Founded by Rocket Internet in 2014, APACIG's mission is to promote innovation and entrepreneurship throughout Asia and the Pacific and to support the development of a vibrant online culture.

Additional information may be found here.

About Bank Alfalah

Bank Alfalah is a progressive, full service banking institution with majority shareholding of the Abu Dhabi Group. Bank Alfalah has an international presence in Bangladesh, Afghanistan, Bahrain and the UAE. The Bank has a network presence of 574 branches and over 500 ATMs spanning 196 cities with an international presence in Afghanistan, Bangladesh, a wholesale banking unit in Bahrain and a representative office in the UAE. The Bank services more than one million corporate, institutional, retail, small business, agricultural, Islamic and asset financing customers.

Additional information may be found here.
COMMENTS
Comments are moderated and generally will be posted if they are on-topic and not abusive.
For more information, please see our Comments FAQ