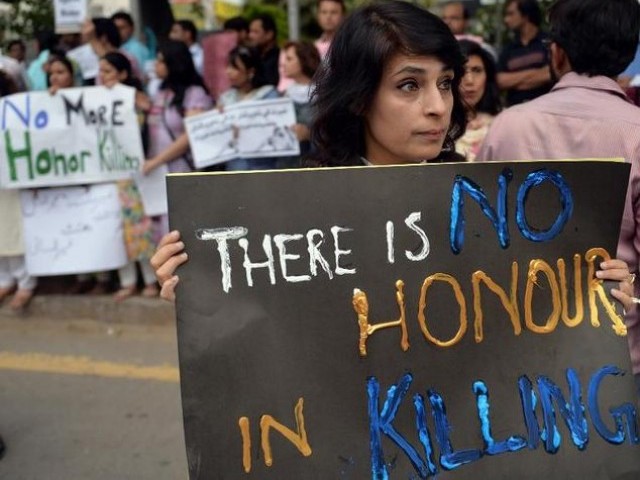 ---
ISLAMABAD: The ruling Pakistan Muslim League-Nawaz (PML- N) has stumbled in its efforts to gain Jamiat Ulema-i-Islam-Fazl's support for the anti-honour killing bill which will be taken up at the joint parliament session today [Monday].

The Anti-Honour Killings Laws (Criminal Laws Amendment) Bill of 2015 was presented in the joint session of parliament last month. However, the JUI-F had raised objections to the bill, claiming that a few clauses were against Islamic injunctions and called for a review of the law.

Anti-honour killing bill: Deadlock persists between PML-N, JUI-F




Sources in the JUI-F told The Express Tribune that talks between the legal team of JUI-F and Special Assistant to Prime Minister on Human Rights Barrister Zafarullah Khan and Minister for Law and Justice Zahid Hamid remained inconclusive. The negotiations were held in two parts: initially, last week with the JUI-F's legal team and later with JUI-F Chief Maulana Fazlur Rehman. Both ended in a stalemate over a raft of issues.

According to sources, the JUI-F's legal team urged the government not to change clauses relating to non-compound offences in the legislation.

Govt tries to bring Fazl around over pro-women bills

The sources said that JUI-F continued to force the government team to keep the element of reconciliation in the clauses, asking the PML-N team to rely on the discretion of the judges. However, Barrister Zafarullah seemed disinterested in amending the clause which appeared to be the reason for the deadlock.

JUI-F's Information Secretary Hafiz Hussain Ahmed said that the deadlock still persisted. "We (JUI-F) will not support any bill against Islamic injunctions … the ruling party's team must show some flexibility," he said.

Published in The Express Tribune, April 11th,  2016.