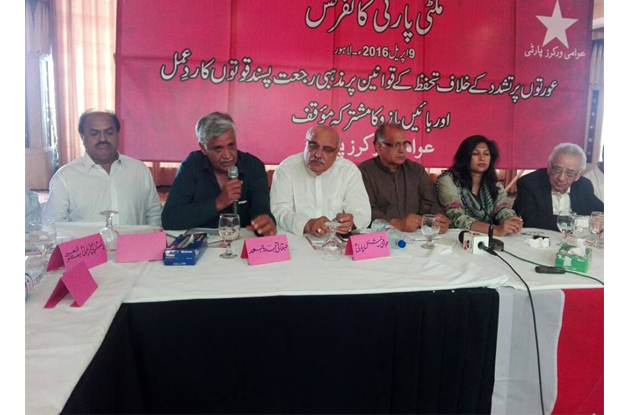 ---
LAHORE: The government should not submit to pressure from religious parties over the law to provide redress to victims of domestic violence, Awami Workers' Party (AWP) president Abid Hasan Minto said on Saturday.

He was addressing a multi-party conference arranged by the AWP on the Protection of Women Against Domestic Violence Act.

"The law passed by the provincial assembly is not sufficient to guarantee recognition of women's rights. However, it is important for all progressive political parties, social movements, trade union activists and civil society organisations to get together in its support and to resist religious parties' opposition to pro-women laws," he said.

Minto condemned the provincial government for starting negotiations with the religious parties to address their concerns.

"Progressive forces should not let the government submit to pressure from religious parties and weaken the institutional framework proposed under the law to provide redress to victims of domestic violence," he said.

Awami National Party's central general secretary Mian Iftikhar Hussain said that the struggle for a society free of gender-based violence needed to be waged in collaboration with all like-minded forces.

Supreme Court Bar Association president Ali Zafar said that an intellectual battle was needed to discredit propaganda on pro-women laws.

"There is need for interim protection, gender sensitisation of the police force, improved prosecution of cases registered under pro-women laws and reform of family courts to enhance their efficiency," he said.

In his statement in support of the conference, Pakhtunkhwa Milli Awami Party (PkMAP) president Mahmood Khan Achakzai said that his party's activists would join progressive forces in their struggle against the religious right-wing.

Women Action Forum's Hina Jillani said that the state could not be allowed to shy away from its responsibility to protect its women citizens from acts of violence. A joint declaration was passed at the end of the conference.

It condemned the religious parties for preventing the recognition of women's right to protection against domestic violence and stressed the need for mobilisation of the public in support of a progressive agenda for social change in the country.

Representatives of Balochistan National Party (Mengal), Jeay Sindh Mahaz, Sindh United Party, Hazara Siyasi Party, Pakistan Peoples Party (Shaheed Bhutto) and the Supreme Court and Lahore High Court Bar Associations, the Pakistan Federal Union of Journalists, the Pakistan Trade Union Federation and the Pakistan Bhatta Mazdoor Union (Punjab), the Anjuman Mazareen Punjab, the National Students Federation and the Democratic Students Alliance and the Feminist Collective participated in the conference.

Published in The Express Tribune, April 10th, 2016.