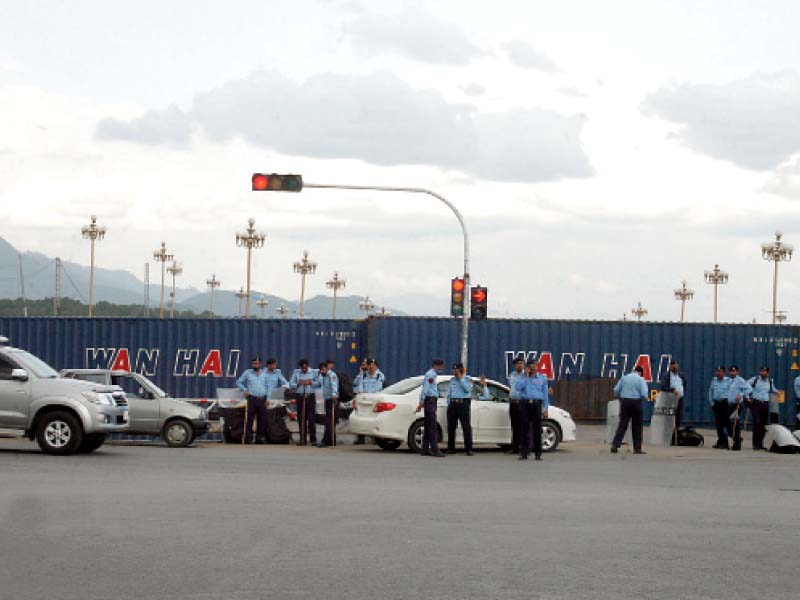 ---
ISLAMABAD: A day after the family and religious parties announced they would hold a Chehlum for Mumtaz Qadri today (Sunday), the government has pre-emptively taken measures to bar any attempts by participants to stage a sit-in at D-Chowk.

Qadri was executed on February 29 after being convicted of the assassination of Punjab governor Salmaan Taseer.

Qadri chehlum: Another 32 protesters released by ATC

Containers have been placed at all important check points of the city, with the Red Zone completely sealed off and Faizabad partially blocked. The road from Faizabad to Rawal Dam and Chak Shahzad will also be partially blocked. Kashmir Highway will be partially blocked till Zero Point, but Margalla Road will be open for traffic.

Single lanes are open at Club Road, Serena Hotel, Nadra Chowk while Jinnah Avenue is open till the intersection before D-Chowk.

The intersection of Ataturk Avenue and Agha Khan Road heading towards Marriott Hotel is blocked by containers.

Security was beefed up after Interior Minister Chaudhary Nisar Ali Khan announced in a press conference that the government would not allow any public gathering at D-Chowk. The CDA was also directed to start dismantling the present seating structures at D-Chowk and redesign the entire area into to be made more purposeful.

He said it was quite unfortunate that the Parade Lane was used for political purposes, which not only jeopardised the security of the entire Red Zone, including important offices in the vicinity, but also created problems for citizens.

The minister underscored the critical role of the administration and police in maintenance of law and order.

Damage to public property by pro-Qadri supporters estimated at Rs150 million

The decision came after pro-Qadri protesters stormed D-Chowk and staged a sit-in for four days. During and after the protest, they also set containers — put in place to bare them from getting to D-Chowk — on fire.

The protesters, who initially gathered in Rawalpindi to mark the Chehlum of Qadri, turned violent as they marched towards the capital, leaving a trail of burnt vehicles and vandalised public and private property in their wake.

They clashed with riot police, prompting the government to call in the army.

The protesters numbered around 25,000 at their peak on the first day, but their numbers thinned out by the time they had begun camping at D-Chowk.

Over a 1,000 protesters were detained by the Islamabad Police and damage to public and private property worth Rs150 million was recorded. Many of these protesters have since been released.

Published in The Express Tribune, April 10th, 2016.