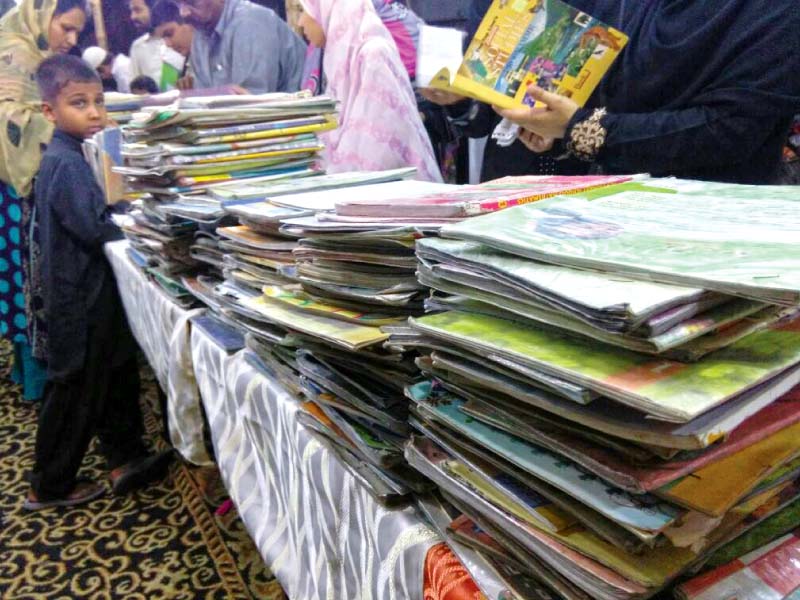 ---
KARACHI: A large number of people are rummaging in the piles of books on tables set up on the footpath, looking for the books they need. Besides books, the tables offer free bags, lunch boxes, water bottles, stationery, shoes and uniforms.

Education: PEF distributes 2.4m textbooks

This is the scene at the service lane near Urdu Bazaar, Nazimabad, where the Jamaat-e-Islami (JI) has set up a camp, offering free items for the poor. The initiative began 10 days ago with just two tables but the overwhelming turnout made the party increase the number of tables to 10.

The campaign, titled 'Parho aur Parhao' [Learn and Educate], was initiated by JI leaders in Nazimabad. "The basic idea was just to make a habit of donating used books to needy children instead of selling the books to scrap dealers," said the organiser of the campaign, Syed Muhammad Muzafar.

Child rights: All efforts to be made to end child labour at brick kilns: CM

The camp, which is active daily from 6pm till 11pm throughout the week, will run for another week.

A helping hand

A worried parent, Sarfaraz Umar, who sells vegetables in the nearby market and lives in Buffer Zone, said, "This camp is like a life saver for my son as I cannot afford to by his books and was thinking of not sending him to school anymore."

Published in The Express Tribune, April 10th, 2016.
COMMENTS (2)
Comments are moderated and generally will be posted if they are on-topic and not abusive.
For more information, please see our Comments FAQ