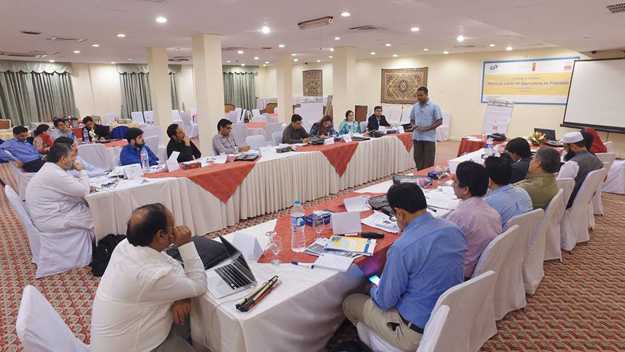 ---
ISLAMABAD: Research shows that Pakistan is among the most dangerous countries for media personnel in the world.

This was said by Centre for Peace and Development Initiative (CDPI) Executive Director, Amer Ejaz on Friday at the launch of a training programme for journalists – a programme funded by the Government of Denmark, said a press release.

The training programme is designed to equip journalists with safety techniques while reporting from conflict-affected areas.

More than 1500 journalists from across the country will be trained in the programme, which is a part of a two-year project, it said.

Speaking at the inaugural session of the training of trainers, Jakob Jakobsen, deputy head of mission at the embassy of Denmark, applauded the media in Pakistan for playing a crucial role in the evolving socioeconomic and political discourse of the country.

He also noted the challenges, such as threats and violent attacks, many journalists face, especially those reporting from conflict-ridden areas.

"The media is a force for democratisation and stability, as it plays an important role in building democratic and open societies by providing the public access to balanced and factual information. Unfortunately, journalists are working in a very challenging environment in Pakistan. Many journalists have been killed in Pakistan over the past decade, which is a strong violation of freedom of information," Jakobsen said.

He expressed hope that through such safety trainings, many journalists would be better able to manage situations with underlying risk factors.

The training programme, which is being implemented by the International Media Support (IMS) in collaboration with CPDI, will entail international best practices and safeguards adopted worldwide by journalists for their personal safety and security.

Dr Ranga Kalansoria, the head trainer, trained the trainers who will further impart their learnings to their colleagues in all four provinces.

The training programme is aimed at improving the skills and safety of journalists in Pakistan's provinces, and enabling media stakeholders to produce a consensus code of conduct for the entire sector.

Published in The Express Tribune, April 9th, 2016.
COMMENTS
Comments are moderated and generally will be posted if they are on-topic and not abusive.
For more information, please see our Comments FAQ