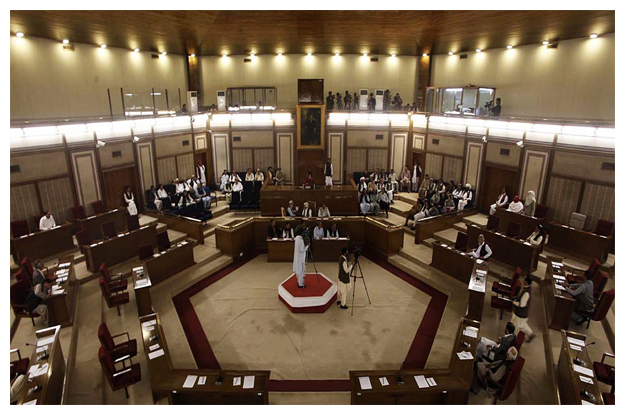 ---
QUETTA:



Members of the Opposition benches in Balochistan Assembly staged a walkout on Thursday against the dismissal of an adjournment motion on Panama Papers while the Balochistan government declared that under the rules, the issue could not be taken up for discussion in the assembly.




The session began with Speaker Raheela Durrani in chair. Opposition Member Shahida Rauf stressed the need for discussing the content of the leaked Panama documents and asked why the adjournment motion was not allowed to be tabled in the assembly.

In response, the Speaker of the Assembly Raheela Hameed Khan Durrani said that the said adjournment motion was not in consonance with the rules of the assembly, adding that the prime minister had addressed the nation and formed a judicial commission in this regard and, therefore, no adjournment motion could be tabled in this regard.

Sardar Raza Muhammad Bareach and Sardar Abdul Rehman Khetran also dismissed the need for discussing the leaked information in the assembly after which members of the opposition benches staged a walkout in protest.

Meanwhile, the provincial assembly approved a resolution for providing funds for dams in all districts of the province. The resolution was submitted by the Pashtunkhwa Milli Awami Party (PkMAP), demanding that the federal government should provide funds for detailed surveys and the construction of dams to prevent wastage of rainwater.

During the Thursday session, Liaquat Agha, a PkMAP member of the assembly, submitted a joint resolution, stating that the people of Balochistan's livelihood depended mostly on livestock and agriculture and both sectors were on the verge of destruction because of lengthy spells of droughts hitting the province for the past several years.

The resolution also pointed out that the water table in the province had also depleted to a great extent because of a lack of rains. He said that an excessive number of tube-wells had considerably affected the decline in the underground water level. "Therefore, this assembly recommends that the provincial government must take up the matter with the federal government for provision of funds so that the rainwater is prevented from being wasted."

The house approved the resolution unanimously.

Another resolution was delayed because of the absence of Awami National Party's parliamentary leader Engineer Zamrak Khan which said that funds have not been provided for the Zhob-Mughal Kot highway which was inaugurated by the prime minister himself.

Another resolution was also delayed because of the absence of a member of the assembly, Nasarullah Zehray, which recommended holding training workshops for growers on water management.

Published in The Express Tribune, April 8th, 2016.