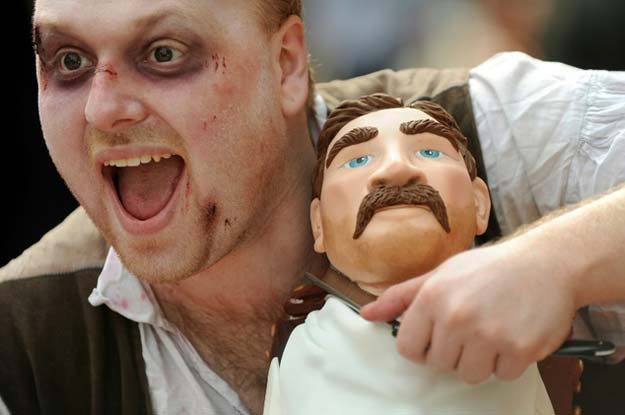 ---
WELLINGTON: Two pupils at an exclusive New Zealand school were hospitalised with neck wounds when a production of "Sweeney Todd: The Demon Barber of Fleet Street" became all too real, officials said Thursday.

The 16-year-old boys were taking part in the musical about a murderous barber who slits his victims' throats when they were hurt on Wednesday night, Saint Kentigern's College said.

Bangladeshi woman sentenced to death after cutting lover's heart out

College head Steve Cole said the boys necks were cut when a prop malfunctioned.

"(It was) a razor, but it's been filed down and bound with various things, it would be normal to use such a prop in a Sweeney Todd production," he told TVNZ.

The pair were rushed to Auckland Hospital, with ambulance officers describing one boy's injuries as serious and the other boy's as moderate.

Cole said the school was "distressed" and offering counselling to all students, including the play's cast and crew.

"We have been talking with both injured students and their families and are pleased to report that the boys are in a stable condition and likely to be discharged today," he said in a statement.

"An investigation is being conducted to determine exactly what happened and ensure this does not recur."

Hindu-Muslim couple slit each other's throats in Taj Mahal 'suicide pact'

In the meantime, he said Thursday night's staging of the production had been postponed.

"Maybe next year, we'll do something that's a bit more general," Cole said.

New Zealand's employment safety watchdog WorkSafe said it was looking into the incident.

"The initial notification to WorkSafe advised that two boys had received neck injuries while enacting a scene in a musical production," it said in a statement.

The Saint Kentigern website describes the Stephen Sondheim musical as "notoriously difficult to produce".