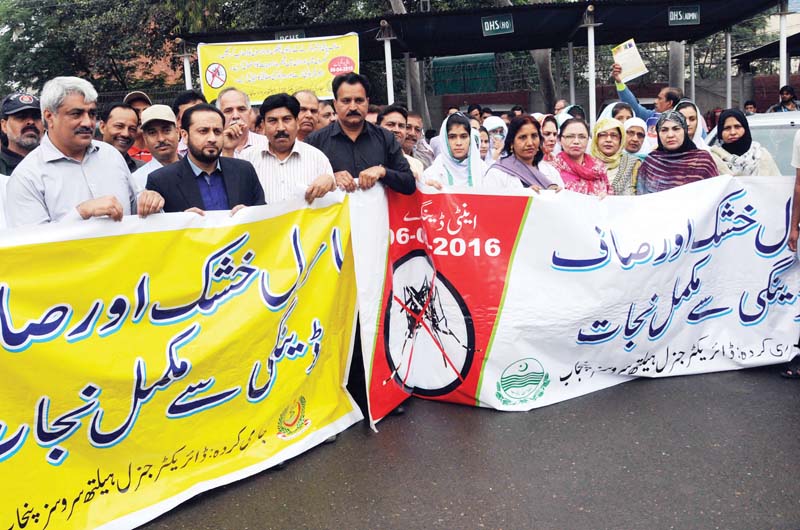 ---
LAHORE: The Health Department, the city district government and several education institutions held awareness walks and seminars on Wednesday to mark the Anti-Dengue Day.

Adviser on Health to CM Khawaja Salman Rafique participated in an awareness walk near the Punjab Assembly. Addressing the participants, Rafique said that people should play their role in eradicating dengue. "People should clean their houses and remove dengue breeding spots," he said.

He said all government departments were taking steps for dengue prevention.

"All departments are following the standard operating procedures (SOPs) for dengue control," he said.

Teachers and students of the University of Health and Sciences (UHS) also staged a rally.

Dr Aslam Khan from the human genetics department said that more scientific research was needed for controlling dengue. "The dengue mosquitoes' breeding habitats are old tyres, flower pots, domestic water containers, toilet bowls, roadside drains, tree holes and canvas sheets," he said. He said a large number of people died in Pakistan from communicable diseases, such as dengue and malaria. Khan said that dengue mosquitoes were active during the day time as well.

Dr Farhan Gohar of the Services Hospital said that people should protect themselves and others from dengue mosquitoes. "It is important to know the warning signs such as abdominal pain, vomiting and fluid accumulation. The diagnosis should be followed by aggressive emergency treatment and hospitalisation. Raising public awareness about dengue breeding and eradicating the breeding sites is very important," he said.

The Lahore Waste Management Company (LWMC) and Albyrak organised a rally from Istanbul Chowk on The Mall to the Government College University (GCU), Chowk.

LWMC Managing Director Nusrat Tufail said that the company had already launched a drive to remove heaps of waste from open plots across the city and spraying of 8,000 waste containers with pesticides. He pointed out that anti-dengue measures were at the top of government's agenda.

The Environment Protection Department organised an awareness walk from Liberty Market Roundabout to Hafeez Centre.

Minister for Environment Protection Begum Zakia Shahnawaz led the walk and expressed her commitment towards dengue eradication. She said that the government was determined to eliminating the disease from the province.

Town Emergency Response Committee (TERC) chairman MNA Mehr Ishtiaq Ahmad chaired a seminar in Samanabad Town. He urged Samanabad residents to pay special attention towards cleanliness in their houses and avoid excessive watering of flower pots and control moisture near water tanks.

Addressing an awareness seminar at Wapda Town Cooperative Housing Society, Cooperatives Minister Malik Muhammad Iqbal Channar said that administrative action would be taken against any government employee who did not fully participate in the dengue eradication drive.

'Adopt good practices for better public health'

Several seminars and walks were organised across the City on Wednesday to mark the Anti-Dengue Day. A seminar and a walk were organised at the University of Engineering and Technology (UET). UET Vice Chancellor Fazal Ahmad Khalid led the walk from Library Chowk to IBM Chowk. Scores of faculty members and students participated in the walk. At the Lahore College for Women University (LCWU), students and faculty members participated in a lecture at the Seminar Hall. Medical officer Hafsa highlighted methods of preventions for dengue fever.

Published in The Express Tribune, April 7th,  2016.
COMMENTS
Comments are moderated and generally will be posted if they are on-topic and not abusive.
For more information, please see our Comments FAQ