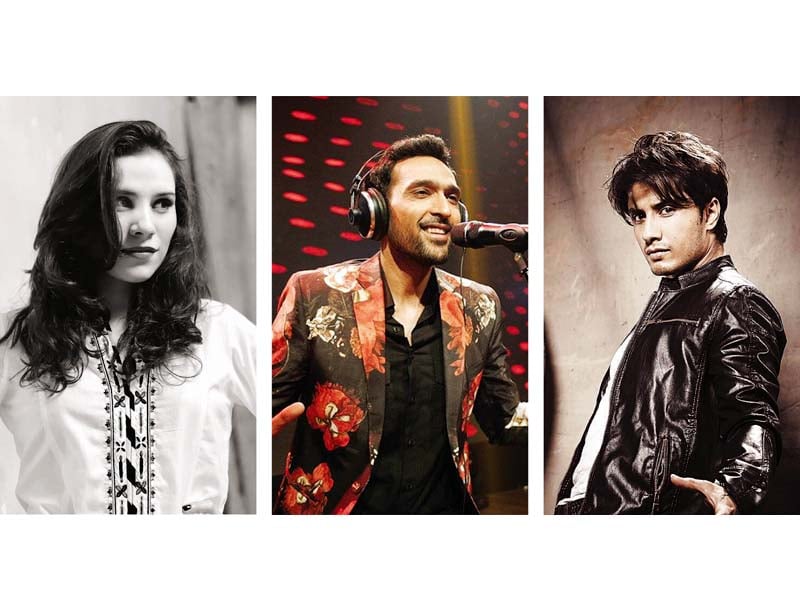 ---
LAHORE:



People turned up in big numbers to meet musicians of renown and hear them play at the recently-concluded Lahore Music Meet on Saturday and Sunday. Held at the Alhamra Arts Council, it was an event that brought together all those associated with the trade.




A last minute addition to the schedule that proved to be quite a crowd puller was a session titled 'Ali Sethi and Sara Haider in conversation with Ali Zafar'. Haider was unable to make it, owing to unexpected travel delays but singer Zoe Viccaji stepped in, in her place.

The trio warmed up to the topics on the agenda with friendly banter. Sethi opened the session asking, "Are you affected by bombings, violence, bigotry and negativity as a creative person?" In response, Zafar referred to creative individuals like Manto and Van Gogh, saying that negativity can be great for artists depending on how they use it. "In a society like ours, which is plagued with political, social and religious problems, the quandaries people face give depth to their character."

2nd Lahore Music Meet aims to be bigger and better

Recalling his own childhood experiences when he was allowed to have ice cream only once a month because that's all his family could afford, he said, "When you achieve success after tough times you get the opportunity to look at things in a different way." Artists often derive inspiration from their struggles and some of their best work comes from pain, Zafar added.

Correlating her affinity for writing with internal struggles, Viccaji said, "One of my favorite writers, TS Eliot wrote on the impermanence of life and that too, started from an inner insecurity and things that are above human control. I wonder where my music would come from if I didn't feel that way, so it's a place of richness for me."

Sethi related an anecdote of Sufi saint Baba Farid. "He used to give people amulets and one day someone asked him what he prays for and he responded, 'To give you pain'. Baba Farid believed there is no greater gift than pain and the point is to embrace the pain … but there is a certain courage required to do that." How does one channelise pain on a day to day basis? "Do what you want in life – don't hurt your own or anyone else's mind body or soul," Zafar pitched in.

Not easy for women to pursue music in Pakistan: Zoe Viccaji

The question of trying times and the role of musicians in it points towards an artist's social responsibility. On this, Viccaji said, "Sometimes if there's something bad going on in the world and we, as musicians, put out something optimistic, we get hatred for it. I feel there is an unspoken pressure on the artist." Zafar seconded her. "It's like artists must portray themselves as leaders and should have the solution to society's ethical and moral depravity … but an artist's responsibility is as much as the next person's," he said. The 'Rockstar' also said that artists are already fulfilling social responsibility by catering to the aesthetic sensibilities of the people.

Referring to the response that Zafar's movie Tere Bin Laden received, Sethi said, "You don't have to be political to find yourself on the wrong side of the line. You often find yourself in a situation where you are politicised without your intention." Viccaji added, "As soon as you become a public figure you have public responsibilities. You are as socially responsible as everyone else but there is more pressure."

Published in The Express Tribune, April 5th, 2016.

Like Life & Style on Facebook, follow @ETLifeandStyle on Twitter for the latest in fashion, gossip and entertainment. 
COMMENTS (1)
Comments are moderated and generally will be posted if they are on-topic and not abusive.
For more information, please see our Comments FAQ