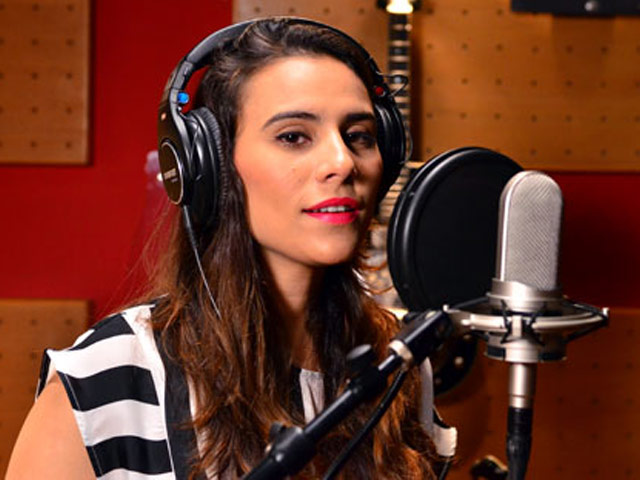 ---
KARACHI:



There are few things that women are able to do freely in Pakistan, and music isn't one of them. "I have been fortunate enough to come from a very supportive family who has encouraged me to follow my love of music and pursue it as a career." says singer and song-writer Zoe Viccaji as she ascribes her accomplishments to her faith in her work.

Speaking at a panel discussion, titled 'Women In Music', at the US Consulate in the city on Wednesday. Flanked by Pakistani tabla player Abeir Shan, American musician Laura Jorgenson and University of Texas at Austin Associate Professor Sonia Tamar Seeman, Zoe Viccaji said that she hoped she can be an inspiration to other Pakistani girls who want to chase their dreams.

That doesn't mean it's all a bed of roses for the Coke Studio star. "I can travel and make my way around Pakistan because I have travelled alone. But if I were to ever visit Afghanistan, or Chitral for that matter, I would have to take a male companion with me," she said. Viccaji said repeatedly being told by parents that there is a risk involved in whatever she does is not easy to deal with.




She had mentioned that working alone had once posed an uncomfortable position, "I was very excited to be working on something [a project] and later found out that this person wasn't really interested in my music ... they were interested in me as a female," she recalled. The singer said these experiences are part of growing up as a girl. "When you grow up with that thing or that chip on your shoulder, you're constantly wary of anyone you work with."

Later in the discussion one of audience members asked about  technical challenges faced when singing in male and female duets. Recalling working on various projects, Viccaji said this was something she encountered often but could be worked around, "There was this jingle that I was supposed to sing with Ali Zafar for a telecommunications company. Ali had already recorded his vocals and all the instrumentation was also done." She said she was unable to reach his scale, but on the other hand an artist like Bilal Maqsood had a compatible voice-type to her scale. She recalls "Bichra Yaar was my first ever Urdu song. While I was doing that, we decided to invite the original band Strings to perform it with me and somehow Bilal Maqsood reached that note," she said, adding, "I think it is very important that whenever you start a song, especially if you're friends [with your collaborator], you should insist on checking every scale and finding that perfect middle ground."




Fawad, Jimmy, Zoe make Lahore laugh, cheer and clap

Also speaking on the event that was arranged as part of the Women's History Month, Shan said she was always mocked for taking up tabla playing. While some questioned her taking a different career route after graduating from the Pakistan Institute of Fashion and Design, others discouraged her by saying that her interest is more of "pehelwaanon ka kaam" (a wrestler's job). However, she seldom paid attention to the naysayers. "It was always about following my passion and not about where I would be paid," she said, adding, "Society needs to revise the perception about girls that they are useless, weak and scared creatures."

While Seeman also believes it is important for every woman to follow her heart, she highlighted the limited opportunities for female musicians as compared to those at the disposal of their male counterparts. "Knowing how to use the equipment [instruments] itself, is very inspiring. People in general feel women are not as physically capable as men. They hence are more sensitive to power relations and get exploited," she said. The academic said restricted opportunities are not the only problem; safety in public spaces is another important issue.

Would love to collaborate with Sajjad Ali: Zoe Viccaji

Jorgensen said for women, working in a male-dominated society makes it even more difficult for them to perform. "There's a lot of difference between what we as women can do and cannot do. There are too many stereotypes assigned to both genders in every society."

Renowned ghazal singer Tina Sani was also among those present at the event. She raised the question about whether marriage deters women from their musical careers or not. "If a mother can do everything for the child, the father too can fill her boots at times," responded Seeman

REJOINDER: In an earlier version of the story, singer Zoe Viccaji was misquoted on her opinions about the music industry and a jingle she was supposed to sing with Ali Zafar. The error has been regretted.

Published in The Express Tribune, March 18th, 2016.

Like Life & Style on Facebook, follow @ETLifeandStyle on Twitter for the latest in fashion, gossip and entertainment.
COMMENTS (9)
Comments are moderated and generally will be posted if they are on-topic and not abusive.
For more information, please see our Comments FAQ