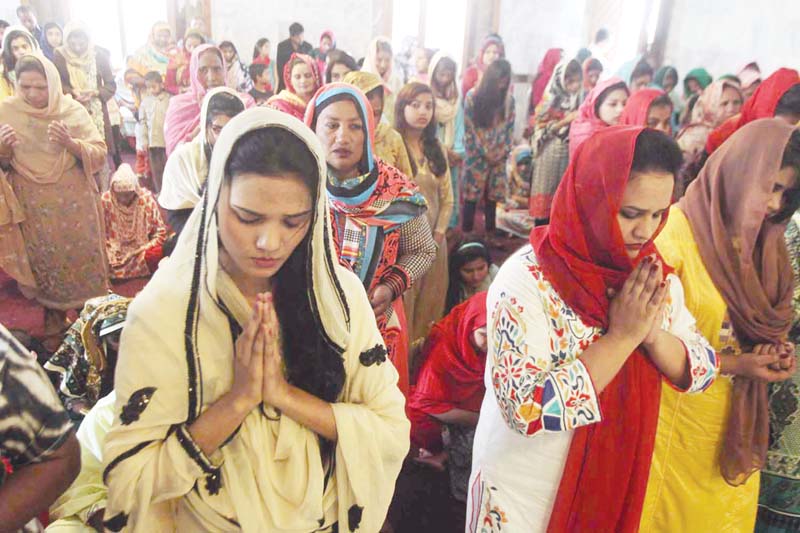 ---
LAHORE:



Easter celebrations in the city were marred by a deadly suicide blast in the evening on Sunday.




Speaking to The Express Tribune, Lahore Bishop Sebastian Shaw said he had received various calls from Christian families condemning the terrorist attack and informing him that they were cancelling their celebrations to express solidarity with those who lost their loved ones in it. He said the attack had left the Christian community of the city in a state of fear. "The terrorists had attacked our worship places last year. Now, they've targeted our community at a recreational place," he said.

Earlier on Sunday, special Easter service was held at most major churches in the city.

Prayers had started around 11pm on Saturday. Worshippers holding candles thronged churches in the form of groups. The worship ended at around 2am. Sebastian Shaw led the prayer at Sacred Heart Cathedral.

On Sunday, multiple prayers at city churches were held from 9am till 5pm to enable all worshippers to participate in the Sunday service.

Fathers, including Joseph Shehzad, led the prayers for welfare, safety and progress of the country. They also prayed for peace in the country.

Speaking to The Express Tribune, Nadim Anthony, one of the worshippers, said Easter was an occasion for Christians to get together and spend time with their loved ones. He said many families visited their ancestral villages to celebrate the day with their relatives. He said sharing meals with relatives was a special feature of the day.

He said after attending the prayers and sharing meals with their relatives, most people preferred visiting recreational sites with their families. He said like western countries the tradition of painting eggs and exchanging them with one's relatives was found among Christians in Pakistan as well. However, he said, it was not very common.

In Christian tradition, Easter Sunday marks the resurrection of Jesus Christ. It follows the end of Lent, 40 days of fasting excluding Sundays. The last week of Lent is considered holy. It begins with Palm Sunday and features Holy Thursday, Good Friday and the Holly Saturday (Last Supper).

Good Friday is observed as a mourning day to mark the crucifixion of Jesus Christ and Easter Sunday his resurrection.

Major masses in the city took place at Sacred Heart Cathedral, Cathedral Church, Marry Immaculate Conception Church, Saint Anthony's Church, Saint Peter's Church, St John's Church, and St Andrew's Church.

Security arrangements were put in place around all major churches to prevent any untoward incident.

Published in The Express Tribune, March 28th,  2016.
COMMENTS
Comments are moderated and generally will be posted if they are on-topic and not abusive.
For more information, please see our Comments FAQ