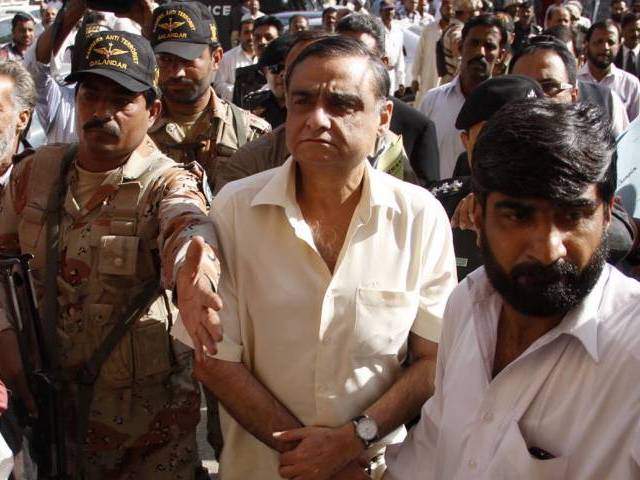 ---
KARACHI:



Former petroleum minister Dr Asim Hussain is likely to be charged in the first week of April in two corruption cases involving around Rs480 billion.




An accountability court provided him copies of the prosecution documents on Saturday. The supply of copies is an obligatory procedure under criminal procedure code and is carried out before the formal commencement of the trial. After fulfilling this legal formality, the court will frame the charges on April 7.

Dr Asim — who also heads Ziauddin hospitals' trust-owned private health facilities — is facing allegations of extending a 'huge' loss to the national exchequer by misusing his powers as a federal minister.

On court orders: Dr Asim shifted to Jinnah hospital

The National Accountability Bureau (NAB) has filed two references against the former minister and his alleged associates including former civil servants and some private persons.

The first reference, which was filed on February 25, pertains to an alleged scam, in which gas was curtailed illegally to the agriculture sector to benefit a particular group associated with the fertilizer industry. NAB contends the price of fertilizers was arbitrarily hiked and Dr Asim received kickbacks in return.

Furthermore, the same reference reads about land scam, public fraud and money laundering. The overall amount involved in this investigation is Rs462.5 billion. Former petroleum and natural resources secretary Ejaz Chaudhry, Karachi Docks Labour Board's former CEO Safdar Hussain, Karachi Development Authority's ex-directors Syed Athar Hussain and Masood Haider Jaffery, and Ziauddin group finance director Abdul Hameed have also been named as co-accused.

The other reference, filed on March 5, revolves around illegal award of contracts to a privately-managed gas processing company, Jamshoro Joint Venture Limited (JJVL). According to NAB, the private company was allowed to process gas from five fields in lower Sindh without conducting an open auction, signing agreements and other necessary procedures.

A loss of Rs17.3 billion was inflicted upon the public money, the anti-graft watchdog states. Sui Southern Gas Company's incumbent managing director Khalid Rehman and former top officials Zuhair Siddiqui, Azeem Iqbal, Shoib Warsi, Yusuf Jamil Ansari, Malik Usman, Oil and Gas Development Company Limited's former managing director Basharat Mirza and another official Zahid Bakhtiar, and JJVL's CEO Iqbal Ahmed are also nominated in this.

During the hearing on Saturday, some of the nominated co-accused, who have taken protective bail from the high court to avert their arrest, filed an application before the accountability judge, Saad Qureshi, against the issuance of non-bailable warrants. They contended that the accountability court could not issue warrants against them. The judge reserved his verdict on the plea.

Appearance in court

Meanwhile, the jail superintendent also appeared before the judge to submit his reply over not presenting Dr Asim in court at the previous hearing. The jailor said that the accused was undergoing treatment for his poor health due to which he was not produced. The judge reprimanded the police officer for not providing the court with the medical report and issued a warning to be careful in the future.

At the end of the hearing, Dr Asim spoke informally to the journalists present in the courtroom and complained about 'misreporting' on his case. He said that his cases were projected in a negative manner.

Published in The Express Tribune, March 27th, 2016.
COMMENTS
Comments are moderated and generally will be posted if they are on-topic and not abusive.
For more information, please see our Comments FAQ