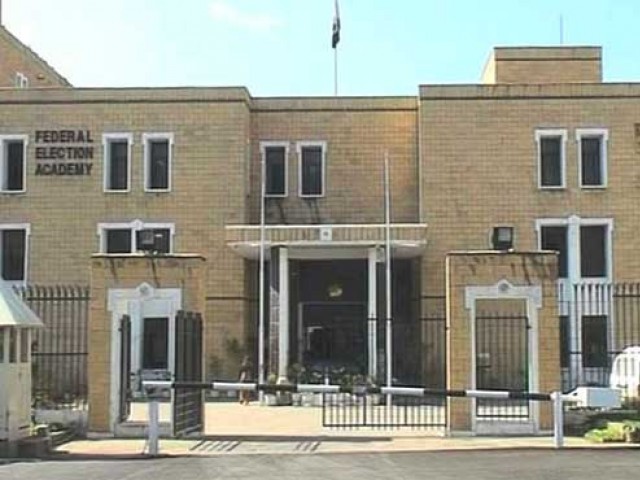 ---
ISLAMABAD: Amid ruckus by some opposition lawmakers in the National Assembly, the government on Friday referred a bill to a standing committee to increase salaries of the incumbent members of the Election Commission of Pakistan (ECP).

The Election Commission (Salary, Allowances, Perks and Privileges) Bill, 2016 aims at increasing salaries of ECP's four provincial members who are set to retire in June this year as well as the chief election commissioner.

Interestingly, the bill which seeks to come into force at once "from June 13, 2011". The bill also seeks entitlement of the members for salary, allowances, perks and privileges as admissible to a judge of the high court.




As Parliamentary Affairs Minister Shaikh Aftab introduced the bill, PTI's chief whip Shireen Mazari took strong exception and asked the speaker to allow her to talk. The speaker said the bill had been forwarded to a committee and members could not comment on it now. However, Mazari kept on protesting against the bill. "When we cannot comment on the bill then why it is being presented in the house," she asked.

As Mazari was not allowed to comment, she again rose from her bench and pointed out lack of quorum in the house. The speaker ordered the staff to count the members and after a while announced that the quorum was not in order and adjourned the proceedings.

'Failure' of tax amnesty scheme

In response to calling attention notice by five members of the PPP on the government's 'failure' in implementing its tax amnesty scheme, Parliamentary Secretary Ministry of Finance Rana Muhammad Afzal said the scheme had not failed.

Nafisa Shah, one of the movers of the bill, said the targets were ambitious as the government had planned to rope in 0.4 million traders but the results were a real shame. "Only 5,700 traders joined the tax amnesty scheme, if this is not the failure then what else is," she remarked.

Rana replied that over 6,000 traders had never been brought in the tax net ever in the history of country and the deadline for the non-filers was March 31 after which law would take its course against them. "No targets were set by the government but yes the numbers of traders turning in are less than expectations," he said.

Published in The Express Tribune, March 26th,  2016.
COMMENTS
Comments are moderated and generally will be posted if they are on-topic and not abusive.
For more information, please see our Comments FAQ