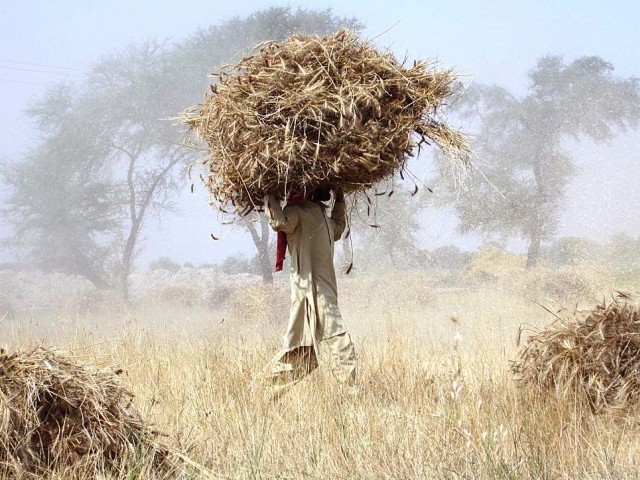 ---
LAHORE: Opposition parties on Thursday demanded that the government announce a thorough agriculture policy to address farmers' problems.

Lawmakers from the Pakistan Tehreek-i-Insaf (PTI), the Pakistan Peoples Party (PPP), the Pakistan Muslim League-Quaid (PML-Q) and the Jamaat-i-Islami (JI) met at the committee room of the Provincial Assembly. Participants of the meeting, chaired by Leader of Opposition in the Provincial Assembly Mian Mehmoodur Rasheed, expressed reservations over what they called discriminatory disbursement of development funds by the government.

They demanded that the government provide reports, ahead of the upcoming budget, about the development budget spent on social sectors, education and health this year.

They proposed more allocations in the 2016-2017 budget for the Saaf Pani project, health, education and law and order. They said that southern Punjab should be given its fair share in development schemes.

The lawmakers also called for fair distribution of development funds among opposition and treasury members. They asked the government to take practical steps to end corruption.

The opposition parties said the agricultural package recently announced by the chief minister was a fraud. They called for a "complete" agriculture policy incorporating subsidies on equipment and materials and offering insurance policies on crops. They demanded that the government start procuring wheat from farmers from April 15 and not from May.

The parties said they would announce their proposals for the upcoming budget by March 30.

Later, Rasheed told a press conference that the government was making false claims regarding the Rs340 billion agriculture package. He said the government in India was providing relief to farmers but the government of Pakistan was creating more difficulties for farmers. "There is a question mark on implementation of the Kissan Package," he said. Rasheed demanded that the government stop discrimination with regard to distribution of funds among MPAs from opposition parties. "This is an insult to our mandate" he said. He said they would stage protest demonstrations and seek a legal remedy if the funds were not distributed fairly.

He said the electronic media should be allowed to cover assembly proceedings. He called upon the government to focus on health and announce schemes in the upcoming budget to end unemployment.

Rasheed demanded that the government form local governments and hold elections for chairmen and vice chairmen.

The PPP's Khurram Jehangir Wattoo demanded accountability across the board. The process, he said, should also be started in the Punjab. He said the accountability process faced resistance in the province… the prime minister and the chief minister were critical of the accountability authority [the National Accountability Bureau]. JI's Syed Waseem Akhtar expressed reservations over the Protection of Women against Violence Act.  PML-Q's Vickas Hassan Mokal said the opposition would submit its proposals during the pre-budget session in the Punjab Assembly.

Published in The Express Tribune, March 25th,  2016.