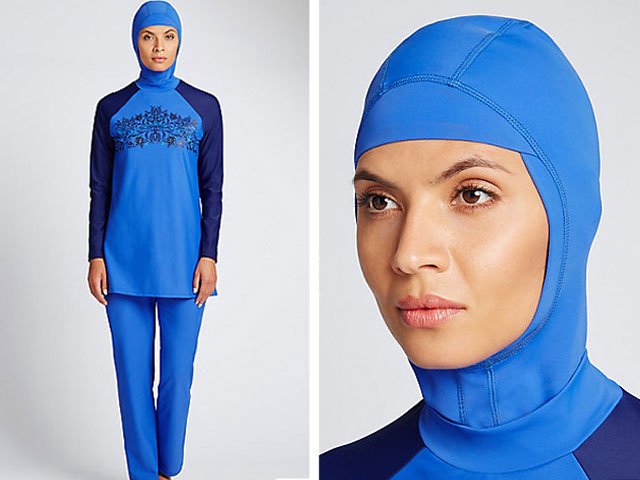 ---
It seems like everyone is jumping on the Muslim-wear bandwagon this season. After Uniqlo introduced its new line of Muslim-wear, and Mango released their Ramadan collection, Marks and Spencer has released a line of 'Burkinis' for Muslim women.

The full-length swimwear, designed to protect the modesty of Muslim women, comes in two designs and marks the first time the UK arm of the company has stocked the product.

The £49.50 suit "covers the whole body" except the face, hands and feet and is "lightweight so you can swim in comfort." The product has already proved popular in branches in Dubai and Libya, where it has been on sale for three years.

Japanese brand Uniqlo introduces new collection of Muslim-wear




Although not exclusively bought by Muslim women, the Burkini is worn by many for religious reasons. The designs may also prove popular with women worried about the damage that exposure to the sun could do to the skin.




Burkinis are available from the company's website in the UK and will soon be on sale at the company's flagship store in Marble Arch, Central London.

Despite being a sign of the growing diversity of Britain's shoppers, the multinational retailer has received some backlash from shoppers.

According to The Sun, the new collection provoked a fiery debate on the Hot UK Deals website this week.

One woman said: "Let the overt and insidious xenophobia begin...As opposed to let the oppression of women continue, because men from certain cultures are too weak to can't control their urges."

But others argued that everyone should have a choice.

Dolce & Gabbana debuts abaya collection




"If they are comfortable wearing a burkini let them, at least they are active and swimming and I'm sure many people don't like people glaring at them naked, so good costume."
COMMENTS (1)
Comments are moderated and generally will be posted if they are on-topic and not abusive.
For more information, please see our Comments FAQ