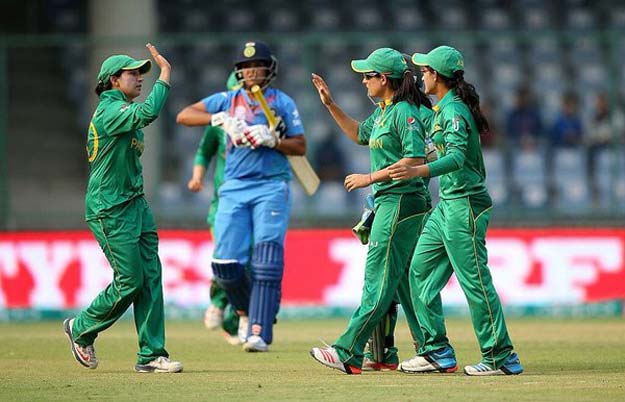 ---
While there is uproar over the loss suffered by the men in green in the World T20 match on Saturday, not much is being said about the Pakistan women's victory over India at the Feroz Shah Kotla Grounds earlier the same day in New Delhi.

Granted, it may take some time for women's cricket to gain as much hype as the men's one, our female side is sure making their own rules and setting their own precedents when it comes to the traditional Pakistan-India rivalry.

Women's win fails to inspire Men in Green

A surprisingly positive piece of news to come out of the Pakistan, India women's clash in the World T20 was the image of Pakistan bowler Anam Amin tying Indian batswoman Harmanpreet Kaur's shoelace during the match.

Women's win fails to inspire Men in Green

https://twitter.com/anthonypermal/status/711273394096971778

While fans in Pakistan are venting their anger at the men's loss to India, fans across the border are celebrating their Kohli-led win against the greenshirts. However, this picture from the women's match in the same tournament gives both nations a reason to celebrate regardless of who ultimately won.

Shocking tactics lead to another chastening defeat

The Pakistan's women team also celebrated their win by dedicating a message to parents of Pakistan female cricketers.


Mubarak Pakistan 🇵🇰❤️ . This win is for dedicated to parents of all Pak female cricketers for believing in us ❤️🇵🇰❤️ pic.twitter.com/imAJl7CHZC

— Sana Mir ثناء میر (@mir_sana05) March 19, 2016
COMMENTS (9)
Comments are moderated and generally will be posted if they are on-topic and not abusive.
For more information, please see our Comments FAQ