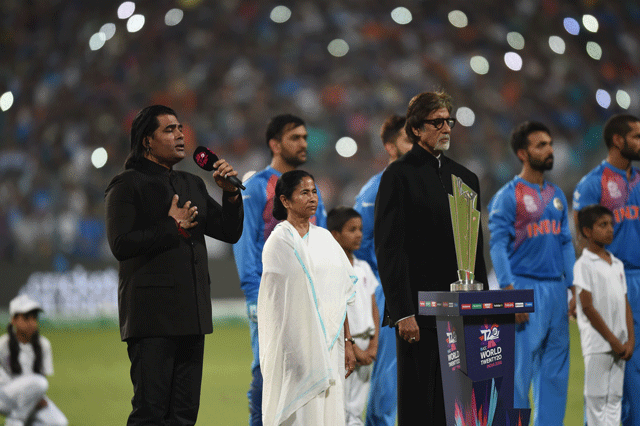 ---
As Pakistan and India came face to face in Kolkata for a heavyweight World T20 clash on Saturday, seasoned Pakistani singer Shafqat Amanat Ali seemingly failed to seize the opportunity to make the nation proud with his otherwise immaculate singing skills.

Shafqat and Bollywood superstar Amitabh Bachchan were present in Eden Gardens alongside the two teams to sing their respective national anthems before the historic event. However, the Pakistani singer could not keep up with the lyrics of the national anthem which caused displeasure among many fans across the country.

Shocking tactics lead to another chastening defeat

The singer has since apologised for his performance, saying that he was deeply hurt by the little faith that Pakistanis showed in him.

"I admit that there were a few audio and technical glitches that may have sounded like lyrical errors and I will surely apologise for not being able to win your praises this time, but assure you I had by no means "forgotten" our beloved 'Qaumi Tarana," he tweeted.


Here is my apology... pic.twitter.com/09aGpMqhRs

— Shafqat Amanat Ali (@ShafqatAmanatA) March 20, 2016


Many took to Twitter to express disappointment over the singer's performance.


By the way Shafqat Amanat Ali should be deported if he steps in the country again, made a mockery of the national anthem.

— Umer (@UmerTariiq) March 20, 2016
Even I can say better national anthem without any preparation shame on you Shafqat Amanat Ali and on your ugly voice you hung our head down.

— Marib khan (@khanmarib_) March 20, 2016
Shafqat Amanat Ali is a friend & 1 of the best voices around. But he was a real disappointment with the national anthem @ the #PAKvsIND game

— Ali Haider Zaidi (@AliHZaidiPTI) March 20, 2016
With love from Shafqat Amanat Ali pic.twitter.com/QAtcMQfcsB

— Sana Tauseef (@SanaaTauseef) March 19, 2016
They should have taken me instead of Shafqat Amanat Ali, I can sing the national anthem in a far better way.

— Iftikhar Firdous (@IftikharFirdous) March 19, 2016
India-Pakistan match needs 'cool' weather, jokes Anurag Thakur
My 5 yr old nephew sings the national anthem with more zeal than Shafqat Amanat Ali. That hair straightening chemical's gone to his brain

— Nuzhat S. Siddiqi (@guldaar) March 19, 2016
so, Mr Shafqat Amanat Ali gets the national anthem wrong at two places. #Fabulous

— EH (@ejazhaider) March 19, 2016


https://twitter.com/naveed575/status/711433029080760320

Some even suggested that Shafqat should have been 'coached' properly before singing on the 'big stage'.


Someone should have coached Shafqat amanat ali before singing on the big stage #PAKvsIND

— Awab Alvi (@DrAwab) March 19, 2016


PCB pushing Indo-Pak series for financial reasons, not cricket: Yousuf

While others said Bachchan is a better singer than Shafqat as the former 'sounds more in tune'.


It is loud and clear. Amitabh Bachan is a much better singer than Shafqat Amanat Ali.

— Murtaza Solangi (@murtazasolangi) March 20, 2016
After all that riyaaz, the actor @SrBachchan sounds more in tune than the singer Shafqat Amanat Ali.

— Hasan Zaidi (@hyzaidi) March 19, 2016