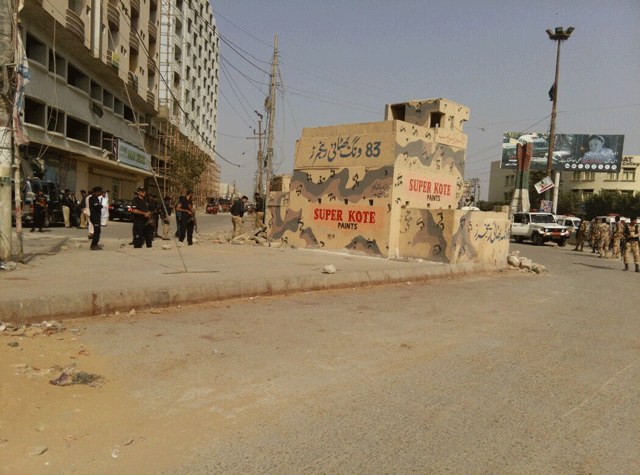 ---
KARACHI: At least two Rangers personnel were injured after bike-riding suspects hurled a hand grenade at the paramilitary force's check post in Karachi on Friday.

"A hand grenade was hurled at the Rangers check post at main Korangi Crossing near Korangi Industrial Area," SHO Zaman Town police station told The Express Tribune. "Two officials Abdul Ghafoor and Karimullah got injured."

Rangers' posts attacked




The injured personnel were shifted to a local hospital where medical sources said condition of one personnel was critical.

Grenade hurled at Rangers check post in Karachi

Taking notice of the incident, Sindh Home Minister Sohail Anwar Sial has a report from DIG East of Karachi Police.

The provincial home minister directed the officials concerned to increase police surveillance and step up efforts to arrest the perpetrators.

Meanwhile, DG Rangers Sindh, Major General Bilal Akbar visited the check-post and inquired about the incident.

According to him, explosives weighing half a kilogram packed in a metal container were thrown at the post, injuring four personnel, one of them severely.

The DG further said that three groups were involved in the third such attack in less than two weeks and that three people have so far been arrested for the crime.

Earlier on Sunday, two Rangers check posts in district east had been attacked by unidentified men. No loss of life was reported, however.

Rangers check post attacked in Nazimabad

The first attack had taken place at 7:45am on a Rangers check post near Moti Mahal, Rashid Minhas Road in Gulshan-e-Iqbal, while the second occurred at the check post in Essa Nagri on Sir Shah Suleman Road. Both posts were partially damaged.

According to witnesses, two men riding a motorcycle hurled something at the posts and sped away.

A militant group active in the city has been trying to promote terrorism and violence, Rangers had said in a statement, adding that action would be taken against the culprits.
COMMENTS
Comments are moderated and generally will be posted if they are on-topic and not abusive.
For more information, please see our Comments FAQ