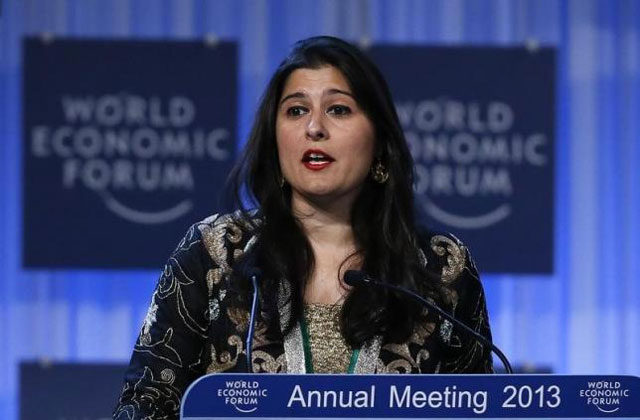 ---
I first met Sharmeen Obaid-Chinoy at her house through a close common friend in Karachi two years back. The following year I met her at the Sindh Club and on a third occasion at her house party. She introduced herself as a film-maker and over the course of knowing her I discovered that her work has been hugely game-changing, going by the Pakistani rule book. With a distinct voice of her own, she is intelligent and articulate. She takes leaps, swims against the tide and follows conviction, not the easiest things to do in Pakistan.

Her Teen Bahadur was an audacious endeavour in a market that wasn't tuned to youth animated features. Yet, she risked money and credibility, and the result was astounding. Her documentaries, known for their searing look at sensitive matters like Afghan refugee children, child marriages and acid burn victims, met with threats but the intrepid lady marched forward, undeterred about crafting a controversial one about an 18-year old who survived a brutal honour killing attempt.

Should #WeDisownSharmeen?

Even as Sharmeen was awarded the Oscar for 'Best Documentary — Short Subject' for A Girl In The River, arm-chair critics and cynics began heaping anathema on her for sullying Pakistan's so-called image in the world. After all, the West is known to thrive in third world misery. Would she have won had the portrayal of her home country been glorifying? I ask that in a country notorious for burying issues under the carpet and suffering from convenient amnesia on the hypocrisy that transpires behind closed doors, if it weren't for brave-hearts like Sharmeen, would such ills come to light and trigger legislative change? Sharmeen's marvel has prompted Nawaz Sharif to make a tangible change in the laws on honour killing. Hopefully, thousands of young girls will be spared the cruelty and be allowed to live. The anti-honour killing bill, stuck in the National Assembly despite having been passed by the Upper House last year, will now become a reality.

I haven't watched the documentary yet but I am told that it respectfully highlights the efforts of the proactive rescue workers, the attention paid to the case by the police and the skill of the doctors who worked on the victim. If this isn't a reasonably positive image of the nation, I don't know what is.

Sharmeen Obaid wins second Oscar award

It was good to see Sharmeen wear a home-grown brand (when most are hankering after the Armanis and Pradas of the world) on the red carpet, and extol the power of film in her winning speech. She is right. Films aren't only fluff and escapism. An alternate school of film believes that the medium should additionally educate, inspire and awaken, and in the process of doing so, amplify uncomfortable issues (like women rights) that merit serious attention and debate.

This comes from an Indian: Sharmeen zindabad! Pakistan zindabad!

Tailpieces

1) My chest puffed out with pride to see Priyanka Chopra walk down the red carpet and up the stage to present an Oscar. Daddy's little girl is ruling the world. Straight after, she air-dashed to Miami where she got out of her flowing Zuhair Murad gown and slipped into comfortable Dostana-style swimwear for Baywatch.

Priyanka Chopra wows on Oscars red carpet in $8 million worth of jewels

2) Leo fared well in The Revenant but his impeccable perfs in The Aviator and The Wolf of Wall Street were more Oscar-worthy in my opinion. For me, it was Tom Hardy all the way. He packed a solid punch. For that matter, even the bear delivered a more nuanced act. If anything, Leo's win should be attributed to his publicist for orchestrating a muscled PR campaign that had most of the world rooting for him, including those who haven't watched the film. 

Published in The Express Tribune, March 3rd, 2016.

Like Opinion & Editorial on Facebook, follow @ETOpEd on Twitter to receive all updates on all our daily pieces.