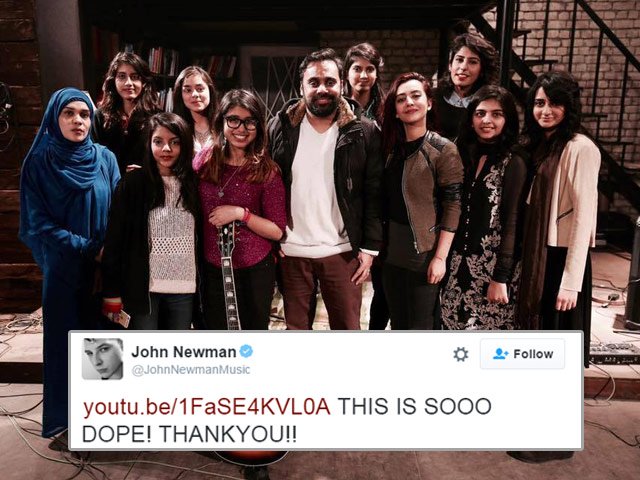 ---
There are countless covers of John Newman's hit single, Love Me Again, but Nescafé Basement won the English singer over as he tweeted the Pakistani cover version of the song and called it 'dope'.

Newman happened to chance upon Nescafé Basement's version of his song and was left speechless. He immediately took to Twitter to share the music video and thank Pakistani singers for the phenomenal cover, saying, "THIS IS SOOO DOPE! THANK YOU!!"


https://t.co/jPUx1SMHg5 THIS IS SOOO DOPE! THANKYOU!!

— johnnewmanmusic (@JohnNewmanMusic) February 29, 2016


Roxette shares Nescafe Basement cover of their song

Zulfiqar Jabbar Khan, better known as Xulfi, was thrilled as he woke up to the news. Xulfi wrote on Facebook, "Don't have any words to describe my feelings except WOW! Music has power to transcend boundaries and this just proves that, again. After Roxette shared our version of their song "The Look", I didn't know this can happen again."

[fbpost link="https://www.facebook.com/photo.php?fbid=10153879915450540&set=a.10151540328620540.1073741825.513735539&type=3"]

Diplo has Islamabad to lean on

Looks like Xulfi is working his magic at Nescafé Basement, the cover song features an ensemble cast of young girls, and people are going in a tizzy after its release.

Earlier, Swedish pop-rock duo Roxette shared the Pakistani music TV series cover version of their song She's Got the Looks, and now John Newman has shared their song.

Not surprisingly, ever since the musician tweeted the song, people went into overdrive.


Congrats @zulfiqarjkhan @NESCAFEPakistan 👏🏼👏🏼👏🏼 https://t.co/i1n022CtyP

— Mehek Saeed (@MehekSaeed) March 1, 2016
Another proud moment for Pakistan. Great jon Nescafe Basement @zulfiqarjkhan and the team. 👌 https://t.co/VjM5DdzKDy

— Danish Rana (@Daanish_Rana) March 1, 2016
Super job @zulfiqarjkhan 👍🏽 https://t.co/38g1Vnr75u

— Ghalat Family (@GhalatFamily) March 1, 2016


https://twitter.com/Waternice/status/704507188304216064


Thats Pakistani music for you. Woah #nescafebasement #GirlsReadyToRock https://t.co/WBlOMsYarG

— Omer A Rehman (@omerark1) March 1, 2016
Proud moment @zulfiqarjkhan https://t.co/OFN2t9Sob6

— Sohail Qureshi (@SohailRQureshi) March 1, 2016


But it's not just the fact that John Newman tweeted the video, the song itself has won people over.


Incredible cover of @JohnNewmanMusic 's Can You Love Me Again by all female Pakistani ensemble. https://t.co/jeNqnlOZXV @zulfiqarjkhan

— Faiza Khan (@faizakkhan) February 29, 2016
"I want to knooww nowww want to knowww now!!"

This is everything. Khawateen zindabad. Love the quality of... https://t.co/xL86hZK3vi

— Sara Haider (@sarhaider) February 29, 2016
#NowPlaying on #DriveOnWithSophie under #FreshPickOfTheWeek is #LoveMeAgain by an ALL GIRLS ENSEMBLE! @zulfiqarjkhan yaar!! <3 #NBS4 #FM91

— Sophiya (@SophiyAnjam) February 29, 2016
The hijabi girl in Nescafe Basement 's Love me again cover...Im your biggest fan!

— 🌻Bissmah Mehmud (@bissmahmehmud) February 29, 2016
https://t.co/qAip3BYDoK
Love me Again
Just out of this world by @zulfiqarjkhan and @NESCAFEPakistan 😍
Hats off to every superstar in it! 👌

— Hassaan saeed (@HassaanSK7) February 29, 2016


Here's the cover:

https://www.youtube.com/watch?v=1FaSE4KVL0A&feature=youtu.be
COMMENTS (2)
Comments are moderated and generally will be posted if they are on-topic and not abusive.
For more information, please see our Comments FAQ