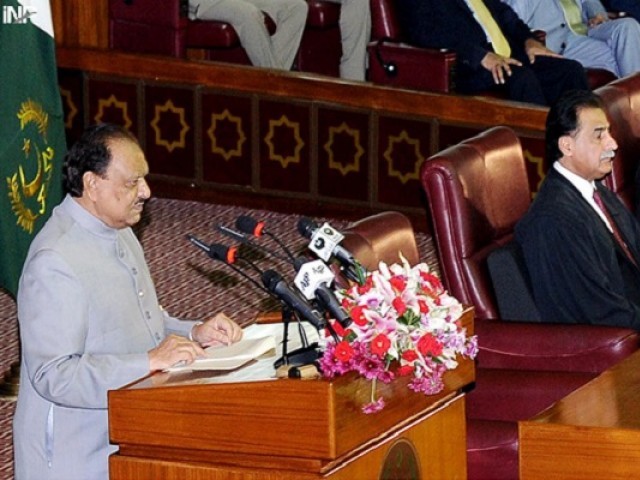 ---
ISLAMABAD:



Though controversially, the National Assembly deputy speaker saved the government from a major embarrassment by shooting down a motion and concluding a months-long debate on president's address to the joint session of parliament.




The opposition found an ideal moment to embarrass the government on Monday, taking advantage of the thin attendance of treasury members – a norm they usually complain against – by moving an amendment in the 'Motion of Thanks' to the president.

Otherwise considered neutral, the deputy speaker came under severe criticism from the opposition for alleged rigging in the counting process to defeat the opposition's resolution.

The opposition wanted to add a sentence in the government-backed 'motion of thanks'. The proposed amendment, however, triggered a new controversy.

Pakistan Peoples Party's MNA Shazia Marri moved the amendment motion.

"This house expresses its deep gratitude to the president of Pakistan for his address to both houses assembled together on June 4, 2015," the original motion read.

Marri asserted the speech given by the president had a tangential link with reality and the opposition wanted the government to add these words: "Hoping that soon Pakistan's reality will reflect the words of Honourable President."

Despite all efforts, the treasury benches could not ensure enough strength to defeat the amendment.

Abbasi then announced a tie with 34 votes each and he then, citing Article 55 of the Constitution, cast his vote in the government's favour.

The opposition did not accept his claim and again challenged the result. He offered recounting but did not order shutting the doors.

"You have cheated us today and you are a liar," roared opposition leader Khursheed Shah while addressing Abbasi.

Before announcing a walkout, Shah said: "I'm speaking these words on your dishonesty with deep pain, as I have never addressed the chair in such a manner before."

Abbasi replied that he had great respect for the opposition leader and announced the adjournment of the proceedings for another day.

"The government's effective policies have helped arrest rising inflation and control increasing unemployment," he claimed while admitting the country's exports reduced during the PML-N government but the stock exchange had been doing well.

Published in The Express Tribune, February 23rd, 2016.
COMMENTS
Comments are moderated and generally will be posted if they are on-topic and not abusive.
For more information, please see our Comments FAQ