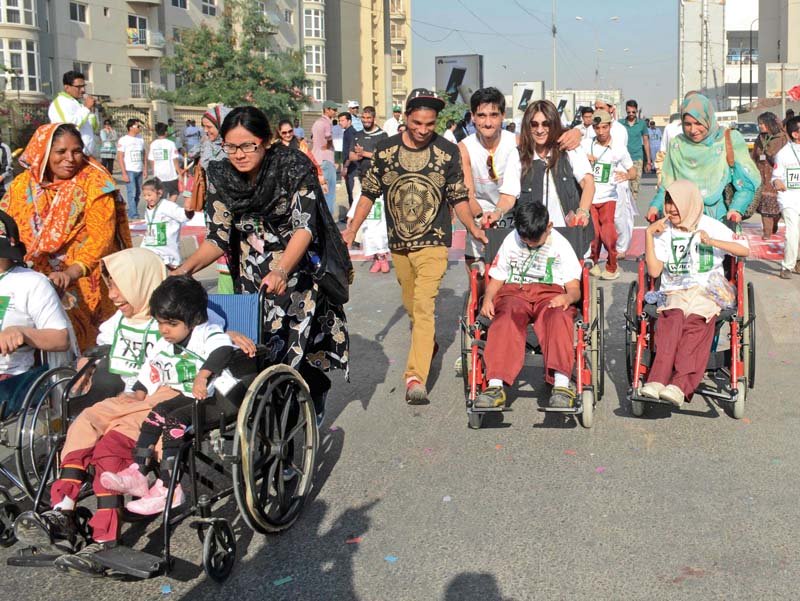 ---
KARACHI: The Lakson Investments 1st SOP Unified Marathon 2016 started with the 10km runners taking off at 8am on Sunday morning. The starting and finish point of the marathon bordered Neuplex with the ceremonies and food stalls in Moin Khan Academy in Defence Housing Authority's phase-VIII.

Unencumbered by gender, age or ability, close to 2,500 people participated in the marathon, including 400 Special Athletes. Participants were seen running, walking and in wheelchairs.

About 75 people took part in the 10km run, 150 in the 5km run and over 2,000 in the 5km walk. All participants were seen wearing the free event t-shirt, numbered running bibs, sporting event race bags, and many enjoyed the included McDonald's breakfast post race.

On the racecourse, StormFiber took on the hydration role with their team passing out water bottles and English Biscuits employees giving out biscuits for nutrition. The cost of participation was Rs. 1,000.

While waiting for their even to begin FM89 and DJ Hussain Dossa kept the crowd entertained.  Specially moving was the Colgate Palmolive-sponsored signing out of the Pakistani National Anthem (you can check out the video here).

Pakistani girl running New York City Marathon raises $10,000 for school in Karachi




Faishur Rehman, a special Olympian who finished the 5km run with the help of his younger brother, was happy to get a medal for coming 78th in the race. He said it had been quite some time since he had last run, but he won a gold medal for the SOP in the 100 meter race in India.

John Sampson, who works for Dai Pakistan, came first in the 10km run and flew in from Islamabad just to attend the race. Sampson, who hails from England, told The Express Tribune that, "It's great to see these kinds of events in Pakistan", adding that is was , "a good race for a good cause."

Maryam Hidayatullah, who placed fourteenth in the 5km run, said she thoroughly enjoyed the event. "It's a healthy initiative and such events should keep happening every month," she added.

Adnan Gandhi, a co-partner of Core and a sponsor of the marathon, placed third in the 10km run, said fitness is required to complete the five and 10km runs. He added, "We want to make this marathon a tradition".

Running for a better future

Model, actress and one of the organisers of the marathon, Sarwat Gilani, said this was the first time such an event has been organised and they expect to attract an even bigger crowd for the next one. For the next event, we will need the government's support, she added however.

Babar Lakhani, CEO of Lakson Investments, said that they look forward to continuing to work with Special Olympics Pakistan and that with the help of the government they hope to include a half marathon (21.1km) in next year's event.

"It was a nice experience to participate in the event, even though I could not secure any position," said Madeeha Omer, a participant who walked the 5km circuit. It was for a good cause so it all paid off, she added.




At the end, all the people with disabilities who completed the marathon, either in wheelchairs or running themselves, were awarded for their participation. The first 50 people to finish the 5km run and everyone who finished the 10km run were also awarded medals.

"We had attempted to organise a unified marathon in Karachi and we successfully made it happen," said SOP Chairperson Ronak Lakhani. According to her, the event is a step forward to integrating mainstream society with its Special Athletes.

"It was a very well-managed run and the volunteers were there to guide people and provide water and biscuits," said Amar Fateen, who completed the 10km run.  He said he would cherish the memories of his maiden marathon forever.

Read more: Special Olympics Pakistan and Lakson Investments.

Published in The Express Tribune, February 22nd, 2016.