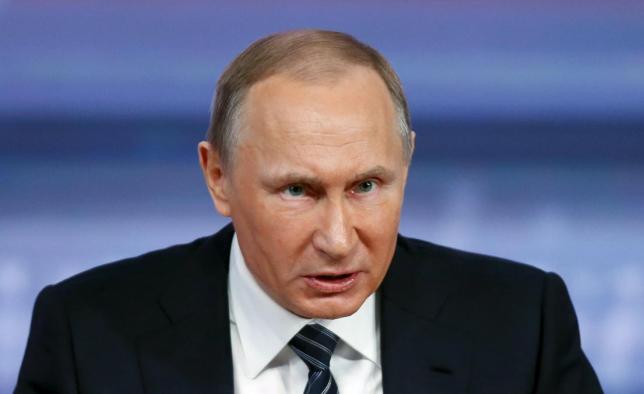 ---
Russian President Vladimir Putin is expected to arrive in Islamabad in the coming months to inaugurate the $2 billion liquefied natural gas (LNG) pipeline project which might open a new era of strategic and political alliance between the two countries, VOA reported.

Last year, Prime Minister Nawaz Sharif had invited Putin during his meeting with a Russian delegation led by Victor P Ivanov – co-chairman of the Russia-Pakistan Inter-Governmental Commission (IGC) on Economic, Trade and Scientific Cooperation – at the PM's House in Islamabad.

"Putin might visit Pakistan before June," said Mobin Saulat, CEO and managing director of Inter State Gas Systems (ISGS), the Pakistani company handling the project. "We are 200 million people. And we provide a gateway to other South Asian countries."

Pakistan, Russia meet today to discuss $2b LNG project

Saulat pointed out that some Pakistani officials and energy experts, on a recent Moscow trip, were able to meet the heads of Russian energy giants Gazprom, Rostec and Rosneft for the first time in more than two decades.

Pakistan has recently singed a long-awaited multibillion-dollar LNG deal with Qatar which would see it import the fuel for 16 years to meet domestic energy requirements.

Islamabad has been trying to form new regional partnerships to diversify from its heavy reliance on the United States and China while Russia likely views the deal as an opportunity to expand its influence in key areas of South and Central Asia.

"There's a great deal of thinking that this has more geopolitical underpinnings rather than commercial ones," Khurram Hussain, a business and economy journalist and a former Pakistan scholar at Washington-based think tank Woodrow Wilson Centre, said.

"Pakistan is in dire need for foreign investment in infrastructure and the only parties that are willing to step forward thus far have been other states, particularly China," Hussain said, adding that he had doubts about the project.

He went on to say, "I take agreements that have been signed in a veil of secrecy with a great deal of scepticism. If the government wanted to start the project in a few months, now would be the time to let analysts review the terms and conditions."

Pakistan's $2 billion LNG pipeline project hits a snag

While the current venture is a state-to-state project, it might give a signal to the private sector that Pakistan's economy has powerful backers, he added.

The 1,100-kilometre-long structure will be able to transport 1.2 billion cubic feet of gas per day throughout Pakistan – from Karachi to Lahore.

The first phase of the three-phase project is expected to come online in two years, with the final completion date scheduled for some time in 2019. LNG, from any country that comes to Karachi port will be re-gasified and sent through this pipeline to the north.

Pakistan has worked on a similar model with China under which a Chinese firm would lay an LNG pipeline from Gwadar to Nawabshah and build an LNG terminal at the deep-sea port at a cost of $2.5 billion.

Russia will spend from $2 billion to $2.5 billion, which is almost 85 per cent of the cost of building the pipeline.

This article originally appeared on Voice of America.
COMMENTS (24)
Comments are moderated and generally will be posted if they are on-topic and not abusive.
For more information, please see our Comments FAQ