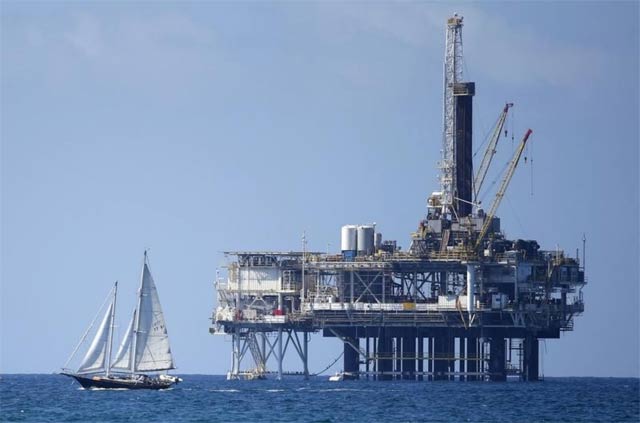 ---
DOHA:



Pakistan and Qatar signed on Wednesday the long-awaited multi-billion dollar liquefied natural gas (LNG) deal which would see it import the fuel for 16 years to meet domestic energy requirements.




The $16 billion sale and purchase agreement was signed by Petroleum Minister Shahid Khaqan Abbasi for Pakistan and Chairman Qatargas Board of Directors Saad Sherida in Doha with Prime Minister Nawaz Sharif and Emir of Qatar Sheikh Tamim bin Hamad bin Khalifa al Thani witnessing the ceremony.

Pakistan inks LNG deal worth $16b with Qatar

Nawaz is on a two-day tour of Qatar, primarily for the LNG deal signing ceremony.

Terming the deal as a 'game changer' for Pakistan, Abbasi told the media that it would see Qatar export 3.75 million tonnes of LNG to the energy-starved country. With the supply-demand gap in Pakistan standing at approximately 2-4 BCFD (billion cubic feet per day), the import would help meet 20 per cent of its energy needs.

"This agreement has been hailed around the world as the most cost effective deal for LNG globally under which Pakistan will keep importing fuel from Qatar till 2032."

The minister claimed that the deal would save the country $1 billion annually while a further $600 million could be saved in diesel costs for power generators.

Pakistan finalises $21b LNG deal with Qatar

In July 2013, the Economic Coordination Committee (ECC) of the federal cabinet had authorised petroleum ministry to negotiate with Qatargas to import up to 500 mmcfd on delivered ex-ship (DES) basis. Subsequently, an agreement relating to energy sector cooperation was signed between the two governments.

The ECC also allowed Pakistan State Oil (PSO) as buyer to execute the long term LNG sales purchase agreement (SPA) with Qatargas as seller, pursuant to a government-level agreement as per due process.

In August 2014, the ECC formed the price negotiation committee (PNC) comprising representatives of the petroleum, finance, water and power, Sui Northern Gas Pipelines Ltd. (SNGPL), Sui Southern Gas Company Ltd. (SSGCL), PSO and Inter State Gas Systems Limited (ISGSL) to negotiate the price with Qatar.

In a meeting on January 13, the government approved PNC's recommendations regarding the price and key commercial terms of the long term SPA.

According to the agreement, the cost of gas for the month of March is estimated to be $4.78 per mmbtu, lower than the Qatar's current rate of $5.35 mmbtu.

The venue and setting for Wednesday's signing ceremony was almost identical to the one almost four years ago when Pakistan and Qatar had first inked a memorandum of understanding (MoU) for importing LNG. The difference: It was Prime Minister Yousaf Raza Gillani overseeing the signing ceremony that day while the signatories were then Petroleum Minister Dr Asim Hussain and Qatar's minister for energy Dr Muhammad bin Saleh Al Saada.

Pakistan close to clinching $16b Qatar LNG deal

Three other MoUs signed

Apart from the LNG deal, three other agreements were signed between the two countries on Wednesday including cooperation in the fields of radio and television, health and academic research activities.

An MoU about cooperation between the two countries in radio and television was signed by Special Assistant to the PM on Foreign Affairs Syed Tariq Fatemi and Qatar's Foreign Minister Muhammad bin Abdurrehman Al-Thani.

The MoU on cooperation between the two countries in health sector was signed by Finance Minister Ishaq Dar and Qatar's Health Minister Hanan Muhammad Alkwari.

An MoU in academic research and cooperation activities between the two countries was signed by Pakistan's Ambassador to Qatar Shahzad Ahmed and Commander of Strategic Studies in Qatar Armed Forces Staff Major General Saud Ali Alnaeemi.

Nawaz invites Qatari investment

In a one-on-one meeting with Qatar's Emir at the Aiwan-e-Emiri, Nawaz said that Pakistan was an ideal destination for investors and called upon the Qatar Investment Authority to explore opportunities in Pakistan's oil and gas sector and the power sector. They also discussed ways to enhance cooperation in various fields.

Cheaper LNG only solution to energy woes

Nawaz added that Qatar could benefit by utilising the services of the large manpower Pakistan has.

Earlier upon his arrival in Doha, Nawaz and his entourage was warmly received by Prime Minister of Qatar Sheikh Abdullah bin Nasir bin Khalifa Al-Thani.

They witnessed a demonstration of Pakistan's JF-17 Thunder fighter jet and the Super Mushshak light trainer aircraft.

Published in The Express Tribune, February 11th, 2016.