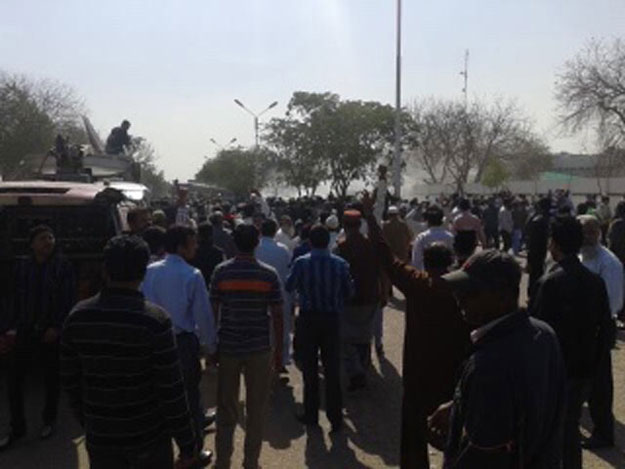 ---
KARACHI:



It is generally believed that a journalist can save his skin in times of crisis by showing his identity. But on Tuesday whoever was wearing a press card and trying to cover the Pakistan International Airline (PIA) employees' protest, faced collective wrath of law enforcers.




After the shots had been fired in a rally of protesting PIA employees, law enforcement personnel turned their batons to everyone. However, after a point their anger was focused only on the reporters and cameramen.

"How would we know you are a journalist? You could be a bomber," shouted a policeman in response to pleas of a reporter who was showing his press identification. Another official, however, did not find the conversation interesting and hit the reporter with a baton anyway while spurting profanities. However, the newsman was rescued by technician of a DSNG van.

Others were not so lucky. Cameramen of Express News Rafiq Hassan, Dawn News' Shafi Dilshad and Amjad Iqbal of Waqt News were hit with sticks, boots and in one case dragged as well. Dilshad was thrashed brutally, leaving him with a fractured hand.

"For some time we have been seeing that security personnel started beating newsmen whenever they want to cover up something," said a senior journalist, who was reporting the protest for a news channel.

Other newsmen who were injured included Ary News cameraman Hanif, AFP's photographer Rizwan Tabassum, Dunya News' reporter Naveed Kamal and Channel 92's reporter Samar Abbas.

Published in The Express Tribune, February 3rd, 2016.
COMMENTS
Comments are moderated and generally will be posted if they are on-topic and not abusive.
For more information, please see our Comments FAQ