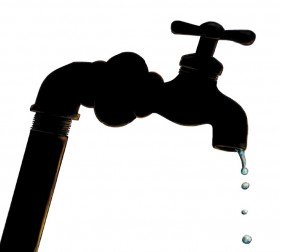 ---
KARACHI: Residents of Baldia Town consider water supplied by the Karachi Water and Sewerage Board (KWSB) as a divine favour, since they receive it for a couple of hours every two months or so, said Salman, a shopkeeper in Swat Colony.

A resident, Farid, said their miseries are multiplied when their 'turn' for water comes [after a wait of over 60 days], and there is no electricity due to load-shedding in the locality. In this situation, they fail to use pumps to store the water.

Aqua Final

"It has been 15 to 20 years now that we have not used the taps at our homes; instead we rely on buckets or drums to store water, which we have to buy ourselves," lamented Farid. He also said the supply line gets littered with silt after every few months.

"The water that is supplied initially is not fit for consumption [due to the silt] and when clean water starts pouring out the supply gets disconnected," complained another resident, Saleem Khan.

Sharing the locals' miseries further, Ghousur Rehman of Kumhar Colony in Baldia Town told The Express Tribune that there is severe water supply issue in all the nine union committees of the area, as they get water after 60 to 90 days for just an hour.

He quipped that they would resort to aerial firing to celebrate in case they ever got water after a month's gap. Rehman revealed that a single household spends over Rs2,000 per month to get potable water for drinking and cooking purposes and as much to acquire 'saline water' for other purposes.

Sub-engineer Mushtaq Ahmed Shaikh, who is responsible for water distribution in Baldia Town, confirmed that "The area is most unfortunate as far as water supply is concerned." He blamed inadequate supply from the Water Trunk Main (WTM) as the primary reason behind the scarcity.

Water scarcity: A grave threat

According to the WTM chief Zafar Palijo, the real source of water for Baldia Town is Hub Trunk Main which is supposed to carry 100 million gallons per day (MGD) but due to the 'dead level' at the Hub Dam, the supply is close to 70 million gallons after every seven days which is equivalent to 10 MGD. According to Palijo, water supplied through Hub Dam to Baldia Town is currently fed by River Indus. He feared that the situation will get worse in the coming days when KWSB will be unable to feed the dam and thus suspend supply to the area.

"The situation can only improve if the dam gets filled with rainwater, as at full capacity, it [dam] can be utilised for three years," explained Palijo.

Engineer Shaikh explained that the WTM line starts from Central Ordinance Depot filter plant and feeds Hassan Square, Liaqatabad and Nazimabad and finally reaches Baldia Town, which gets a meagre amount as it is at the tail-end of the line.




Baldia Town includes Muhajir Camp, Ittehad Town, Ghulshan Ghazi, Abidabad, Yousif Goth, Moach Goth, Dawood Goth and the Saeedabad police training college.

KWSB given two weeks to end water crisis

"As we have divided the entire town in 56 different areas, we try our best to accommodate one area per day with the available water but we fail to do so," he said, explaining that as a result the turn of water supply to 56 areas in the town goes to two and half months." He claimed that they require 2.5MGD to feed a single area in Baldia Town.

"Baldia Town can be considered the worst affected area in the entire city as far water supply is concerned," accepted Palijo. "The area is unplanned and ill designed and a few localities are built on small hills and alleviated platforms. Therefore, it is hard to supply water there," he added.

Published in The Express Tribune, February 3rd,  2016.
COMMENTS
Comments are moderated and generally will be posted if they are on-topic and not abusive.
For more information, please see our Comments FAQ