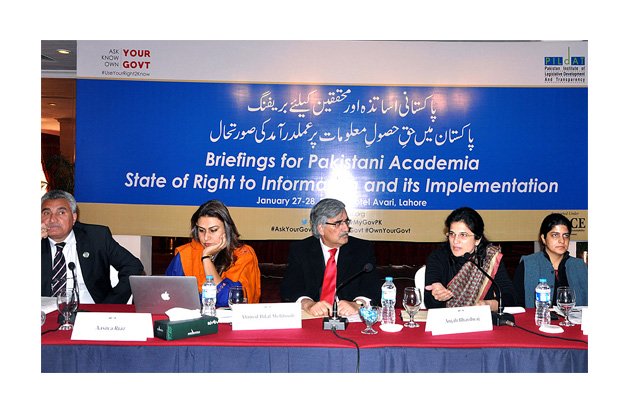 ---
LAHORE:



Speakers and participants at a two-day briefing for Pakistani academia on the state of Right to Information (RTI) law and its implementation agreed that the RTI should be included in university curricula across the country. They also agreed that effective implementation of the RTI was necessary to improve responsiveness, accountability and transparency within the government.




In a session titled Effective Implementation of RTI: Experiences From Across the Border, speakers from India shared details on how the RTI was being implemented effectively and being used by the public to access information and social services.

National Campaign for Peoples' Right to Information Co-Convener Anjali Bhardwaj said that 6 million RTI applications were being filed in India every year due to a huge demand for public information and government accountability.

Speakers from Khyber Pakhtunkhwa also spoke on implementation of RTI provisions within the government and its impact on governance.

Punjab Procurement Regulatory Authority (PPRA) Managing Director Mohsin Abbas said that the RTI had changed the nature of governance and citizen-state relations in both developed and developing countries.

He spoke on the PPRA's initiatives in making government procurement open to public scrutiny and eliminating corruption in implementation of government contracts.

KP Reform and Implementation Cell Deputy Secretary Shehryar Memon spoke on the government's initiative to make performance data public. He said implementation of the RTI was a major reason for improved governance within the province.

Punjab Chief Information Commissioner Mazhar Hussain Minhas said the performance of the Punjab Information Commission in ensuring proper implementation of RTI was being hampered by lack of financial support and cooperation from the government.

He spoke of delays in release of the commission's budget and appointment of staff.

KP Information Commissioner Professor Kalimullah spoke on KP RTI Commission's initiative for toll-free helplines and an online web portal to aid public in accessing information under the RTI.

Over 60 academicians from Islamabad, Lahore, Multan and Peshawar participated in the briefings. Participants also included faculty from Kinnaird College for Women , International Islamic University Islamabad, Bahauddin Zakariya University, Institute of Management Sciences and Peshawar. The event was organised by PILDAT.

Published in The Express Tribune, January 28th,  2016.
COMMENTS
Comments are moderated and generally will be posted if they are on-topic and not abusive.
For more information, please see our Comments FAQ